If you're planning to visit London with kids – congratulations on your great taste! There are so many things to do with kids in London, no matter what their age. Even teens will be impressed by the array of sights and shopping on offer, while younger children should prepare to be amazed by London's array of attractions and activities.
This guide to London for children is here to give you ideas for things to do in London with the family. Covered are all the top kids' attractions in London, as well as a selection of the best kids' activities in London. Some are even completely free.
Whether you're wondering about entertainment for kids in London, family attractions in London or are trying to plan an actual London itinerary with kids, this article will help you find your way. From activities in London for kids to great family entertainment in London, this is the ultimate London-with-kids guide. Let's go!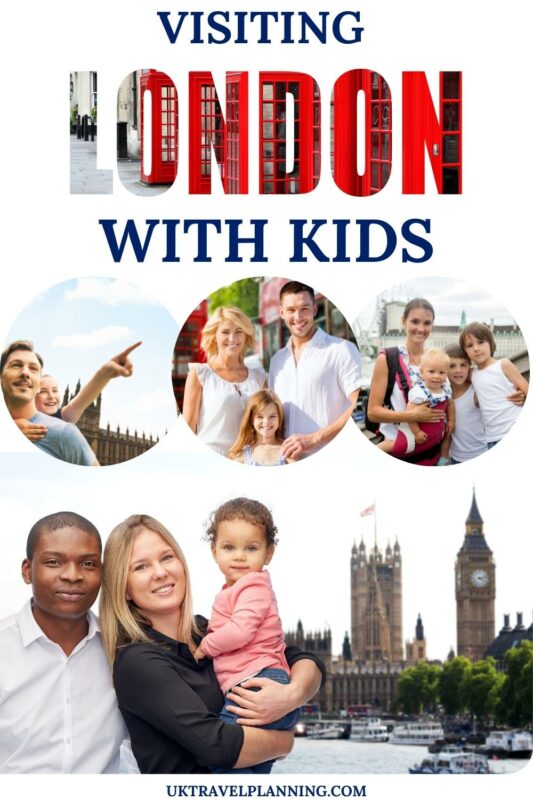 11 top things to do in London with kids
The London Eye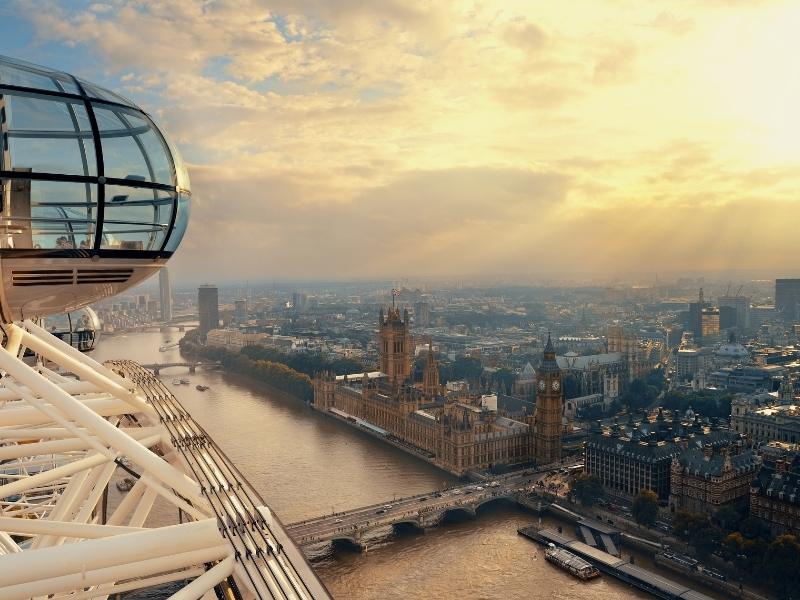 The London Eye is among our all-time favourite attractions for kids in London (as well as for adults who travel unencumbered)! No one can fail to be impressed by those jaw-dropping views over the city and the River Thames.
It's a stunning sight whether you take a day or night 'flight', and as such is the UK's number one paid visitor attraction. This means you really do need to book your tickets as early as you can. For fully refundable tickets with a fast track option, we recommend Get Your Guide. Their options include tickets at the same prices you'd pay when booking direct.
We also have an article all about the London Eye, which you can access via the link below. In this, we've also detailed other options, such as combined tickets that may save you money and all you need to know before you climb aboard.
Book your London Eye tickets here
Click here to read our complete guide to the London Eye, including tickets, tips & tours
Hop-on, hop-off London sightseeing bus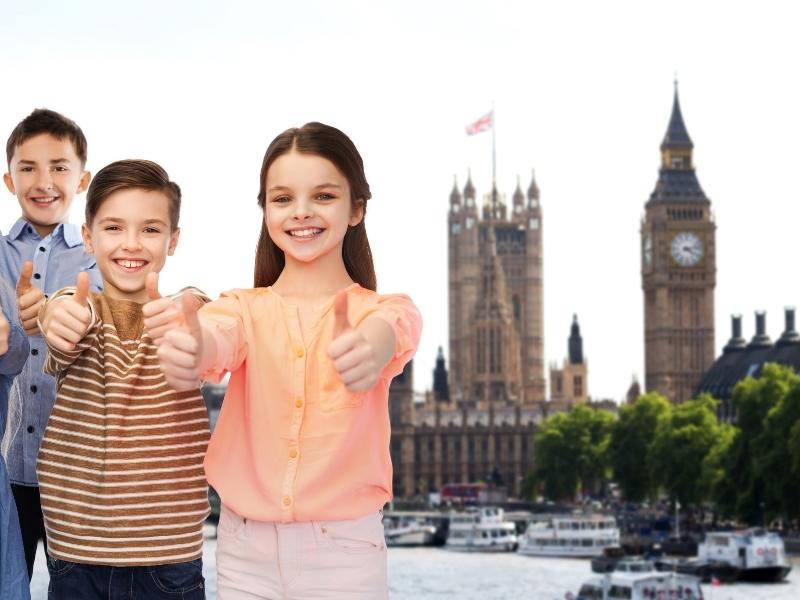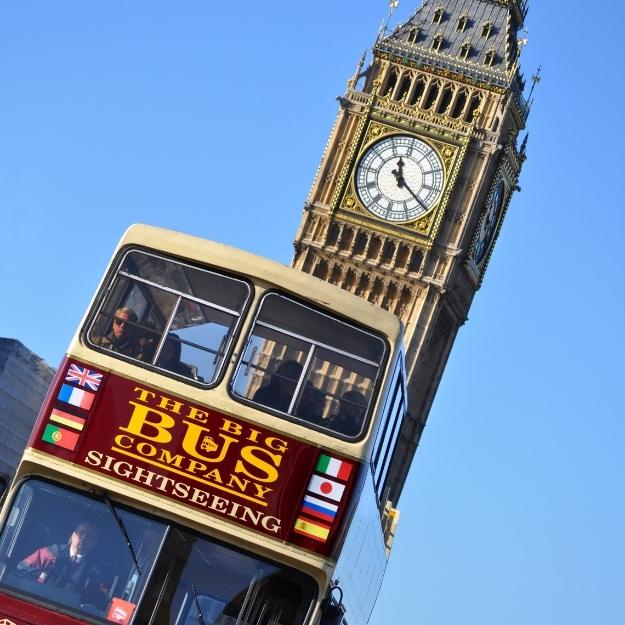 Kids just love those big red London buses, so they'll be thrilled to board one with their very own ticket to ride. You can buy passes for a single day, or ones that last for several days in the city.
For days out in London with the kids they're ideal, as there is lots to see and you can all jump off for a break or to explore whenever you like.
You can take in whichever sights you choose, including popular spots like Buckingham Palace, St Paul's Cathedral, Westminster, Hyde Park, the London Eye, the River Thames, Tower Bridge and Leicester Square.
Booking tickets in advance is a no-brainer as you can cancel up to 24 hours before travel to receive a full refund. It also saves you so much time.
You can do that right here.
If you prefer a dedicated bus tour which was developed specifically for kids we recommend this London bus tour (its not hop on hop off) – London bus tour for kids.
London parks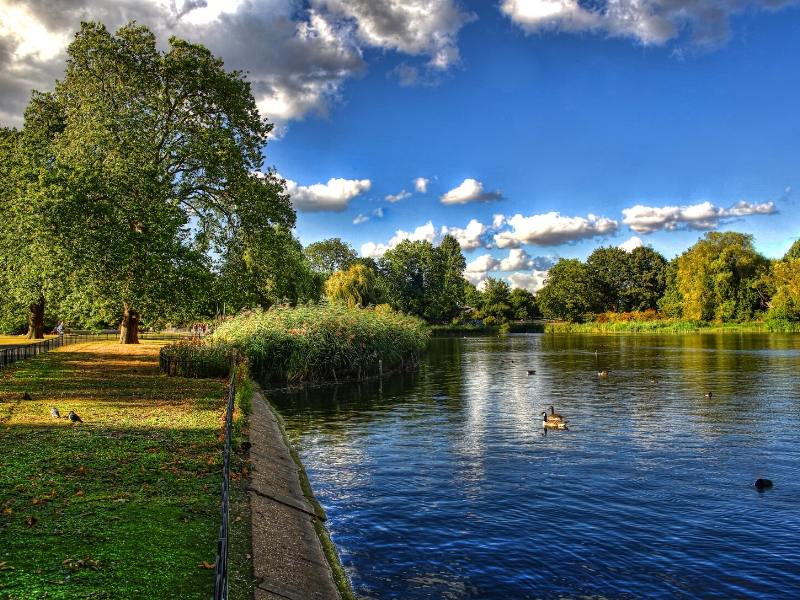 London has an amazing amount of green space, and what better way for kids to stretch their legs in the city than by visiting one or more of the city parks?
There's a great kids' playground right by the London Eye on the South Bank called Jubilee Gardens. This has lots of climbing equipment to keep kids busy.
Otherwise head to one of the bigger, more traditional parks. Green Park is close to the Westminster area, while Hyde Park lies between the Knightsbridge and Oxford Street areas. Regent's Park, meanwhile, is further north, close to London Zoo.
Madame Tussauds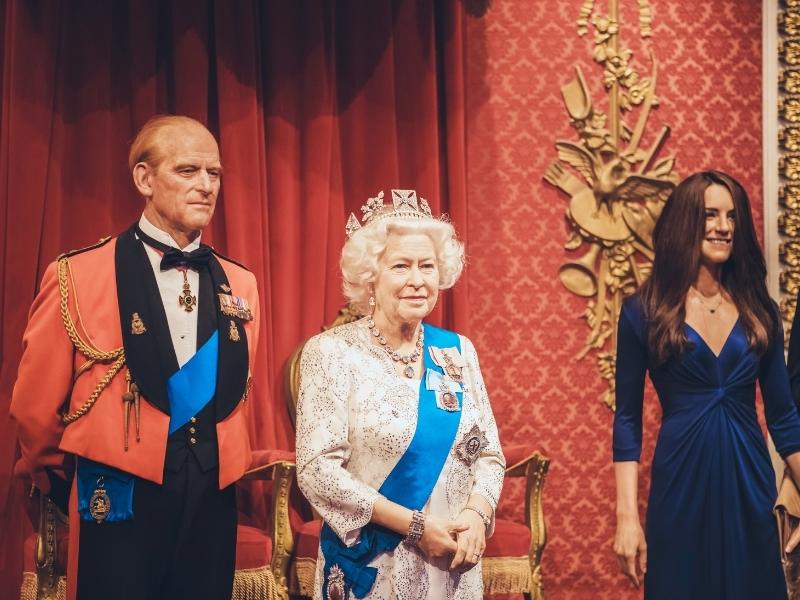 Even most British kids will have visited Madame Tussauds at some point – it's that iconic kind of place. Nowadays it's far from the dry, dusty hall of still wax figures you might imagine. There are plenty of things for kids to get involved in and they can also spot everyone from a football hero to a world leader or Hollywood actor.
One of the more recent additions to draw the crowds is the Royal Balcony, where you can get up close to members of the Royal Family as they look out over London. Kids will enjoy walking along the red carpet too, just as their favourite celebrities do. This is also a great place to be when it's raining outside!
At Madame Tussauds in London, you can also take a black cab ride, explore the Star Wars experience or even discover the 4D Marvel Universe. Again it's advisable to book in advance to avoid disappointment and skip the line. Take a look at ticket options here.
London toy shops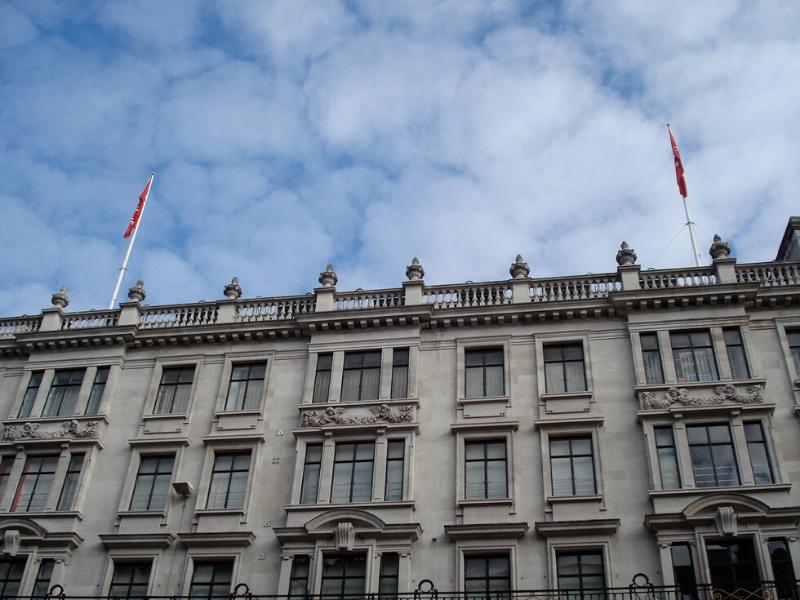 London has some of the best toy shops in the world and they make great attractions in London for kids. Visiting them is free, too, although we obviously cannot guarantee that you won't end up spending any money!
The best option is Hamleys on Regent Street, which proudly (and boldly) calls itself 'the finest toys shop in the world'. If Grandad or an Aunt gave the kids some spending money for their trip, now's the time to flex it!
Other great stores to visit include Harrods in Knightsbridge, near Hyde Park, and the Lego Store on Leicester Square, close to where all the film premieres are held at the famous cinemas there. You can also find an M&M's merchandise store on the square.
Harry Potter experiences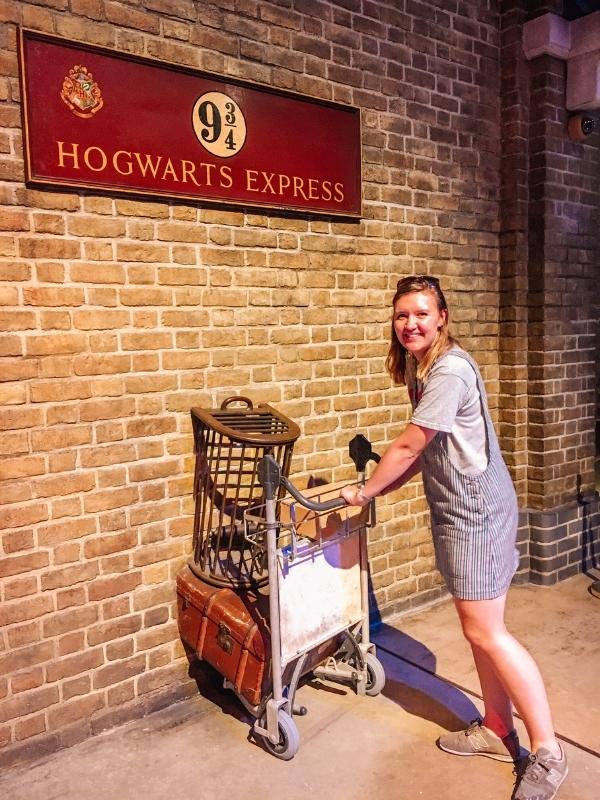 For fans of the wizarding world, having some sort of Harry Potter encounter in London is a must! There are various options, including sights within the city itself as well as the Harry Potter studios north of the capital.
The best way to choose what to do is to take a look at one of our in-depth Harry Potter guides, as follows:
A London musical
Taking them to see a West End show is one of the top activities for kids in London – as well as the adults they're with! The whole experience is thrilling – from entering the theatre district that's buzzing with energy to sitting through a spectacular show.
To find out what's showing check on the London Theatre Direct website or ask anyone you know who's been to the capital recently.
New shows appear all the time, so even if you've been before there will be something you haven't seen yet!
Our top recommendations for 2022 are:
The Tower of London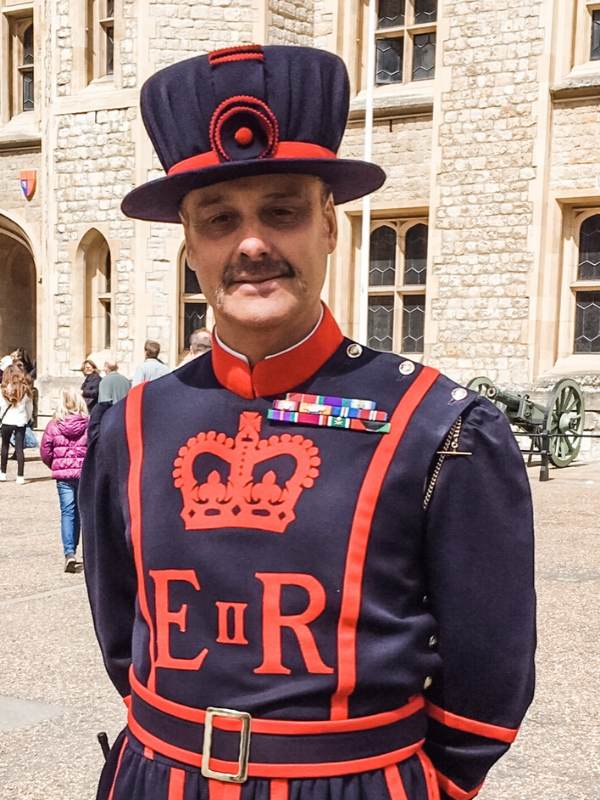 The Tower of London is also one of those family attractions in London to delight people of all ages. Would-be princesses will gawp in amazement at the sparkling Crown Jewels, while the tower's more torrid tales are guaranteed to enthral those who can't resist a bit of horror.
Then there are the famous uniformed Beefeaters and the ravens, who apparently act as guardians of the tower.
Booking in advance is advisable and again Get Your Guide offer a full refund if you cancel 24 hours or more before. You can purchase Tower of London tickets through them here.
Click here to read our complete guide to visiting the Tower of London
Visit a London museum – Natural History Museum and/or Wonderland at the Science Museum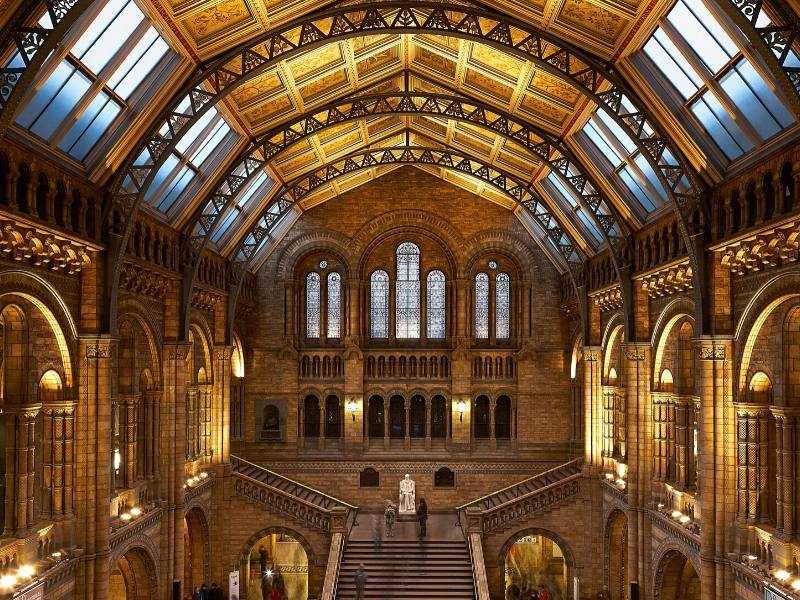 The Natural History Museum is a must for many children in London – who could fail to be awed by whichever massive skeleton is on display in the grand lobby?
This top pick among kids attractions in London is also free to enter. Booking in advance is wise, however, and you can do that here or book a fast track ticket here.
There is so much to do at the museum that it could even occupy an entire day – and it's certainly a far more affordable option than many of the other fun things to do with kids in London.
🦖Good to know – There is also an excellent tour available especially for families called the London Natural History Museum Dinosaur Discovery Family Tour. This private, family-friendly tour of London's Natural History Museum makes history fun and teaches your children more about the rise and fall of the dinosaur.
The Science Museum is another popular choice and buddy scientists will love WonderLab. WonderLab is an unmissable interactive experience and has been described as the most exciting science playground in the world. You will need to book tickets for Wonderlab which you can do here.
The Changing of the Guard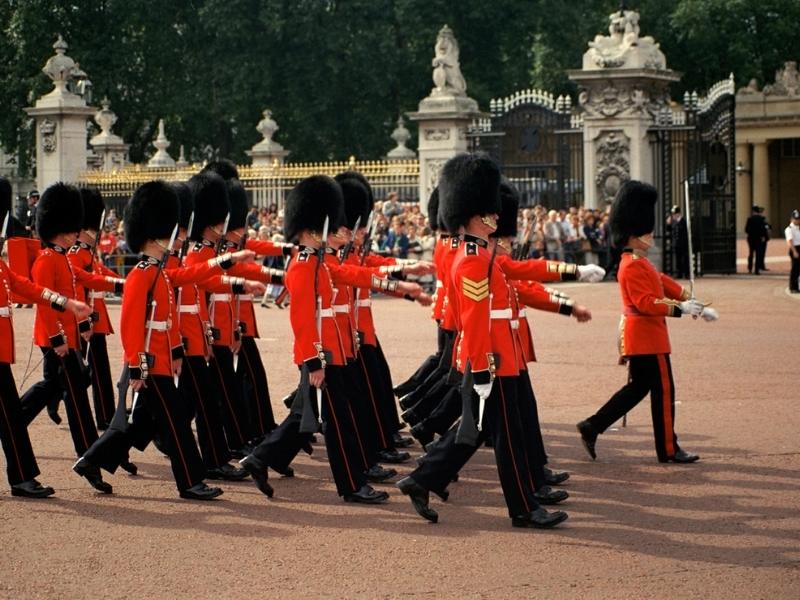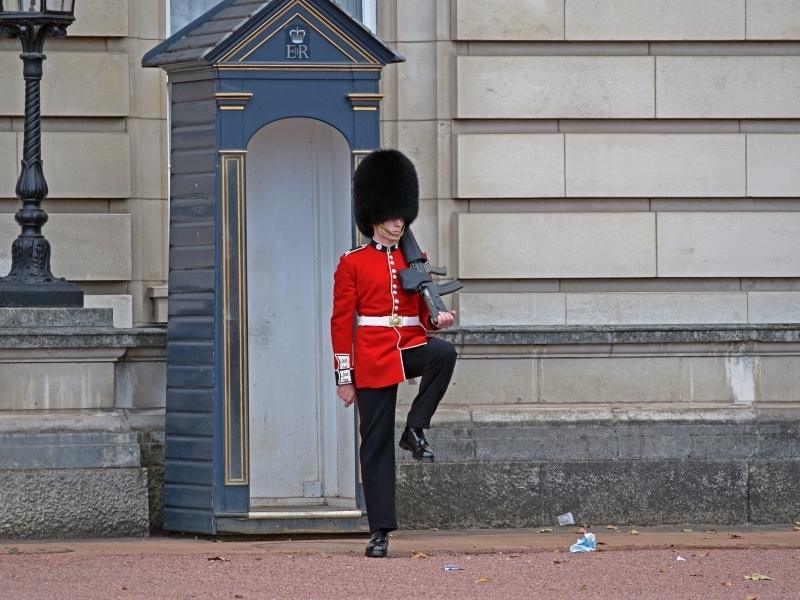 The Changing of the Guard at Buckingham Palace is an experience not to be missed by any visitor if at all possible. It's so very British – and it's free to watch. You don't have to wait around for too long, either.
Normally the Changing of the Guard takes place at 11 am every Monday, Wednesday, Friday and Saturday. We've written a complete guide to this too, which you can access via the link below to find out all you need to know.
Afternoon Tea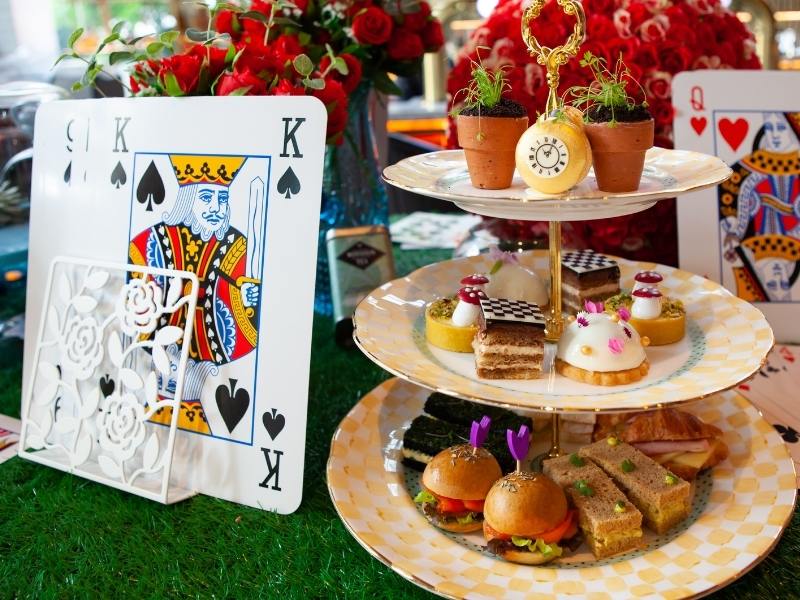 There are so many wonderful and creative afternoon teas available in London (as well as the traditional afternoon teas at the Ritz and Fortnum and Mason of course) so it will come as no surprise that there are afternoon teas especially themed for children!
These are available at the time of writing but do check (March 2022)
Top Tips for doing London with kids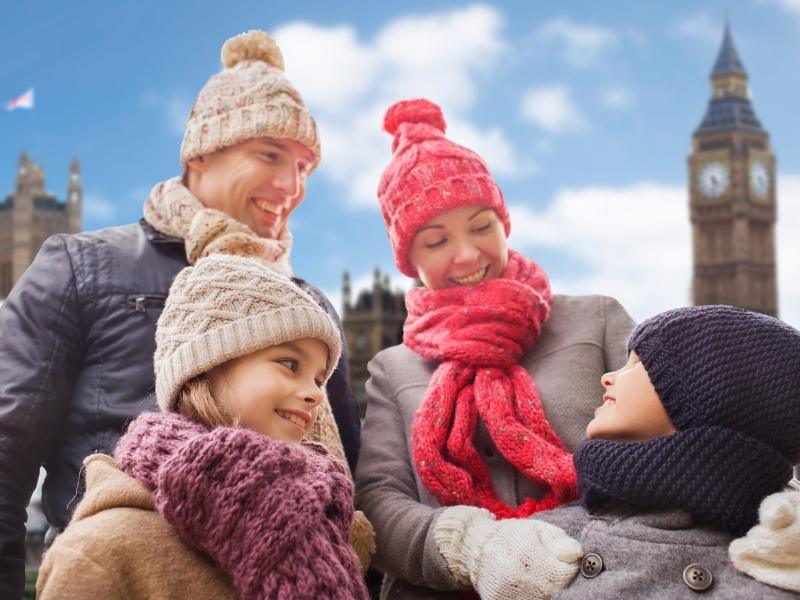 Stay central
This is our number one piece of advice for people visiting London, and it particularly applies to those visiting with kids. A long bus or tube journey to get to the attraction is not the best start to days out in London for kids, and will only result in many repetitions of 'are we there yet?'
For the best area to stay in London with kids plus our recommended accommodation options – Click to check out our post on the best London hotels for families
Book ahead
We really recommend booking your London attraction tickets ahead of time. When you do this with Get Your Guide you have absolutely nothing to lose, as you can cancel 24 hours beforehand for a full refund. It saves so much time and potentially a lot of money too.
Prepare for rain
The UK does have a reputation for being a rainy country – and it's true. It really can be! So don't go to London without at least a lightweight, packable jacket or umbrella, and wear shoes that will also be suitable when it's wet underfoot. Find more about what to pack for your London trip in our UK packing guide for all seasons.
Stay safe
Of course, you don't imagine you and your child becoming separated, but it can and does happen. Make sure you give them the hotel's business card or the address on a piece of paper, as well as your mobile phone number.
Also, keep an eye on your valuables or important items – like any city, London sadly has its share of chancers who will gladly relieve you of the contents of your bag if they're given the opportunity. We recommend using a theft-proof travel bag like this one by Travelon.
London with kids – FAQs
Is London good to visit with kids?
London is amazing to visit with children. There are so many family activities in London to get involved in, whether it's free stuff like spending time at the park, exploring a top museum or wandering around the world's finest toy stores.
Lots of paid London attractions for kids also exist, so you'll never be bored as long as you have a little cash and some time to spare!
What can I do with my toddler in London?
Toddlers love to gaze at the world around them, taking it all in. So give them plenty to look at and you'll be sorted. Whether it's a museum in South Kensington, the play park by the London Eye or a look around one of the world's best toy shops, there's plenty to keep little ones entertained. Just make sure you pack plenty of snacks and drinks!
Are there any free family fun activities in London?
We're not going to lie – London can be a very expensive city. However, it also has far more than its fair share of free places to visit.
There are incredible parks to picnic in, world-class museums and galleries to explore, street entertainers to watch on the South Bank and in Covent Garden and of course many mind-blowing shops.
You can also take a self-guided tour of Harry Potter filming locations. The only limit on family things to do in London is your own imagination.
What will you do in London with kids?
We hope this guide has helped you plan your days out in London with kids. The city has so many attractions to keep people of all ages happy, and as in life, some of the best things in London really are free!