Today I want to bring you my Marylebone High Street guide. This shopping road near Oxford Street and Baker Street is an exciting place to eat, drink, browse, and explore. Its buzzing atmosphere and variety of entertainment throughout the day and night make it a local London favorite. Read on for my top picks for things to do on Marylebone High Street. There's a map, too.
Marylebone High Street
Marylebone High Street sits right in the heart of central London. It runs from Marylebone Road in the north to Marylebone Lane in the south, and it's known for its abundance of upscale shops, restaurants, and pubs.
The street is surrounded by great markets and side roads bursting with charm and life. They help make this part of central London worth a special trip.
How to Get to Marylebone High Street
It's easy to get to Marylebone High Street from other parts of London. To the north, Baker Street station is served by multiple tube lines and numerous local buses.
To the south, Bond Street Station on Oxford Street is served by the Jubilee and Central lines of the London Underground and by local buses.
You can also walk or cycle to Marylebone High Street from areas like Mayfair, Hyde Park, Fitzrovia, and Regent's Park. In short, there's no excuse to stay away.
Marylebone High Street Shops
Once here, one of the best things to do on Marylebone High Street is shop. This is one of the most beloved shopping streets in London, and there's a lot of retail therapy to be found here.
If you're taking a London shopping trip, it should definitely be on your itinerary.
My favorite shop on Marylebone High Street is Daunt Books. This famous bookshop has a great selection of fiction, non-fiction, and travel books, and an awe-inspiring interior complete with a mezzanine with views.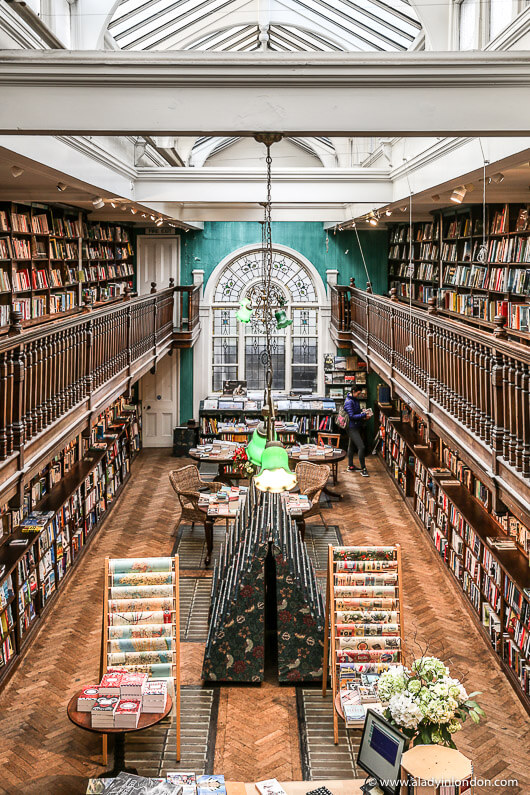 When it comes to food, the Marylebone High Street shops are top-notch, too. My go-to is La Fromagerie, a mouth-watering cheese shop just off the road on Moxon Street.
I also love the artisan chocolates at Pierre Marcolini, one of my favorite Belgian chocolatiers.
If it's fashion you're after, Marylebone High Street has you spoiled for choice. There's everything from ba&sh to Sandro, Maje, Zadig & Voltaire, Lululemon, and Theory here.
The street has you covered for home interiors, too. From the famous furniture at The Conran Shop to gifts at Caroline Gardner and linens at The White Company, there's no shortage of places to find fun things for your flat.
Farther down, Marylebone Lane and St Christopher's Place are packed with great stores, too. From the pretty ribbons at V V Rouleaux to the beautiful jewelry at Astrid & Miyu, there's a lot to love here.
Marylebone High Street Restaurants
It's not just shopping that draws people here, though. There are excellent Marylebone High Street restaurants, too. This road is bursting with delicious places to eat, and you can find food from across the globe here.
One of the most popular restaurants on Marylebone High Street is Fischer's. This Austrian spot has great food and an interior reminiscent of a bygone era.
Other popular restaurants on Marylebone High Street include classic French spot Orrery and its little sister, Orrery Epicerie. The former has a secret roof terrace lined with lavender, and the latter is popular for casual meals and fresh breads and pastries.
Another favorite is La Brasseria Milanese, where the tables spill out into the sidewalk. This modern Italian restaurant is a great place to enjoy classics like pizza and pasta.
For Japanese food, Taka Marylebone is a solid choice. This contemporary restaurant celebrates traditional cooking techniques and uses local produce.
And when it comes to restaurants just off the high street, everyone loves Le Vieux Comptoir, Le Relais de Venise L'Entrecote, and Blandford Comptoir. They bring European charm to Marylebone.
That's to say nothing of the contemporary Indian coastal cuisine at award-winning Trishna. The sister restaurant of famous Gymkhana, its seafood dishes win me over every time.
Coffee Shops
If you're just after a coffee, there are plenty of good places to find one on Marylebone High Street. Hagen Espresso Bar is highly rated, and just off the street Daylesford Organic is a great place to sip and savor.
Pubs and Bars
When it comes to nightlife, Marylebone High Street has a variety of options. I always like 31 Below for cocktails. Its subterranean lounge is a fun place to spend an evening.
There are great pubs here, too. The Prince Regent is my go-to in this London neighborhood. I love its fun atmosphere and sumptuous decor.
The Marylebone is another popular watering hole on the high street. This bar has a contemporary interior and a cocktail list heavy on house-infused spirits.
Markets
As far as markets go, there are two good options here. Whether you're looking for produce or prepared foods, vintage fashion or unique jewelry, there's a market here for you.
Just off Marylebone High Street, the Marylebone Farmers' Market is a fun place to indulge your inner food lover. It has everything from fresh produce to oysters and mushroom sandwiches.
If you want to, you can pick up a range of food here and have a picnic in the adjacent Paddington Street Gardens.
The Marylebone Farmers' Market wraps around Aybrook Street, St Vincent Street, and the top of Moxon Street, and it's open on Sundays.
At the north end of the high street, the Cabbages and Frocks Market in the cobbled courtyard of Marylebone Parish Church always has something exciting to buy. This fashion market in London features up-and-coming designers and artisan makers.
You can find vintage clothing, fun accessories, handmade goods, one-of-a-kind jewelry, and unique food items here. It's open on Saturdays and it's a good excuse to visit the neighborhood.
Marylebone Hotels
If you want to stay on Marylebone High Street, you have a lot of good options.
The Marylebone Hotel is just around the corner on Welbeck Street. It's one of my favorite places to call home-away-from-home in the area. I love its chic interior and luxurious atmosphere. You can book a room here.
Just south of where Marylebone High Street becomes Thayer Street, The Mandeville Hotel is another good option for a place to stay.
This hotel describes itself as "quirky yet elegant, progressive whilst old school, blissfully quiet yet centrally located". It's a great choice if you want something unique. You can book a room here.
You can see a range of other accommodation and hotels in Marylebone here.
Local Area
There are a lot of places around Marylebone High Street that are worth a visit when you're in the area. From secret side streets like Jacob's Well Mews to lively spots like Chiltern Street, there are plenty of good spots to explore in Marylebone.
Add to that museums like The Wallace Collection and The Sherlock Holmes Museum, and there's an abundance of culture here, too.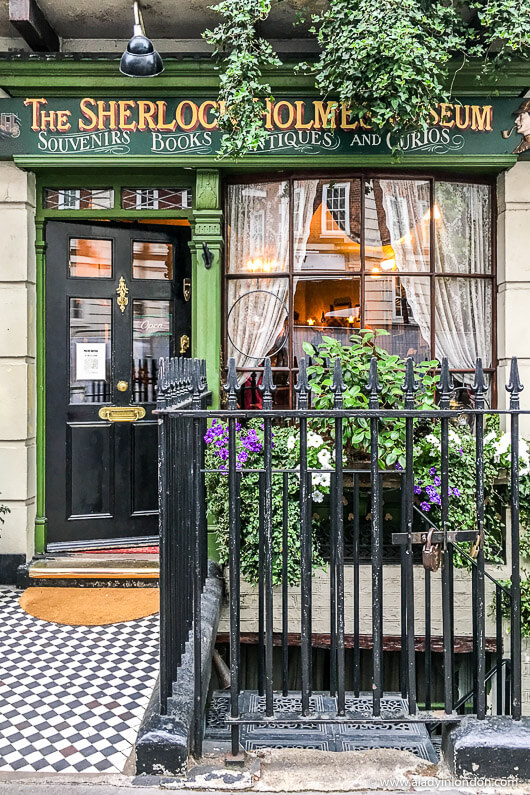 You can read my full Marylebone guide for more of my top picks for places to go in the area.
Marylebone High Street Map
If you want to get your bearings, you can find a map of Marylebone High Street here. You can use it to locate all the places I mentioned in this blog post and more.
Marylebone High Street
I hope you've enjoyed this Marylebone High Street guide, and that it's gotten you excited to discover this part of central London. There's a lot to do and see around here, and I'm confident you'll enjoy exploring this street as much as I do. Happy travels!
New here? Join thousands of others and subscribe to the A Lady in London blog via email or Bloglovin'.
Some of the links in this blog post are affiliate links. At no cost to you, I earn a small commission when you click on them and make a purchase. It doesn't affect the way you shop, and it's a great way to support the A Lady in London blog.
Pin it!