Today I want to bring you my Bermondsey Street guide. This road near London Bridge station is an exciting place to eat, drink, shop, and explore. Its mix of converted warehouse buildings and hip vibe make it a local London favorite. Read on for my top picks for things to do on Bermondsey Street.
Bermondsey Street
Bermondsey Street runs diagonally from London Bridge station to Tower Bridge Road. Along the way it passes under railway arches and alongside parks.
The part of the road with most of the shops and restaurants sits between St Thomas Street in the north and Abbey Street in the south, but the whole stretch is worth a wander.
That's because there's an abundance of restaurants, shops, galleries, and cafes that make this south London street worth a special trip. Which is to say nothing of the pubs.
Bermondsey Street Restaurants
I'll start my guide with Bermondsey Street restaurants. This road is packed with great places to eat, and you can find food from all over the world here.
Two of my favorites are Jose, the famous tapas bar, and Pizarro, its sister restaurant. Neighborhood staples, they bring chef Jose Pizarro's legendary Spanish cuisine to Bermondsey.
Other restaurants I love on Bermondsey Street include Cafe Murano, which serves celebrated chef Angela Hartnett's Italian food, Casse-Croute, which is all traditional French, and Caphe House, which serves great Vietnamese cuisine.
Flour & Grape, Baccala, and Hakata are great, too. In fact, it's hard to go wrong when it comes to restaurants on this road.
Bermondsey Street Pubs
But it's not just restaurants that serve good food here. There are pubs, too.
The Woolpack pub on Bermondsey Street has a great beer garden, and I've spent many afternoons and evenings here over drinks and meals with friends. It's one of the best pubs in London Bridge.
Another favorite is The Garrison on Bermondsey Street. This place feels like it's something between a pub and a restaurant.
The pub offers British fare sourced from local Bermondsey suppliers, and its eye-catching green tile facade and vintage feel make it a fun place to eat and drink.
Bermondsey Street Coffee Shops
The foodie fun doesn't end there. Bermondsey Street has a lot of great coffee shops, too. If you're looking for an espresso drink, you'll find plenty of places to get excited about here.
My favorite is WatchHouse, the original location of a London coffee shop chain that's known for its quality offerings.
Set in a 19th-century graveyard watch house adjacent to St Mary Magdalen Churchyard at the southern end of the street, it's a treat for both the eyes and the taste buds.
Other great coffee shops on Bermondsey Street include Chapter 72 and Fuckoffee. The latter is a counter-cultural coffee shop that always makes my inner San Franciscan feel at home.
Bermondsey Street Bars
Speaking of drinks, there are some great bars, too. Up at the northern end of Bermondsey Street, Tanner & Co is set in a converted warehouse and has a contemporary feel. There's a fun outdoor area, too.
Speaking of which, Bermondsey Bar and Kitchen is known for its huge beer garden. It fills up on weekend afternoons and evenings, and it's a great place to go to get into the local scene.
Right across the street, The Hide Bar is the perfect place for cocktails. An intimate space, it's known for its creative use of spirits.
Down at the southern end of the road, there are more cocktails to be sipped at Two One Four and The Last Talisman.
Museums and Galleries
If you're looking for culture, Bermondsey Street has you covered. The White Cube gallery, one of the most famous contemporary art galleries in London, has a space here. I love wandering in to check out what's on when I find myself here (entry is free).
Just up the road, the Fashion and Textile Museum is the UK's only museum dedicated to showcasing contemporary fashion and textile design. It hosts exhibitions throughout the year, so there's always something new to see.
As if that's not enough, London Glassblowing on Bermondsey Street is one of Europe's foremost glass art galleries and the longest running hot-glass studio.
This place not only has beautiful works of art on display (and for purchase), it also offers visitors a chance to see live glassblowing.
Bermondsey Street Shops
Glass isn't the only thing you can buy here, either. There are a lot of great Bermondsey Street shops to choose from. Whether you're looking for good food or unique London souvenirs, there's somewhere you'll love.
My favorite shops on Bermondsey Street are the ones selling food and drinks. There are a lot of stores here with great culinary offerings, including the Giddy Grocer, Bermondsey Corner, B Street Deli, and Comptoir Gourmand Bermondsey.
Many of them offer mouth-watering treats to enjoy at outdoor tables or in the parks along the street. They're fun places to pick up a picnic lunch on a sunny day.
Beyond food, Lovely and British has great souvenirs and fun things to buy in London. From coffee mugs to candles, it has a range of offerings.
If you want eye-catching shoes, Kat Maconie is just the place. This colorful shop has everything a fashionista could want in a good pair.
Parks and Gardens
There's plenty to do outdoors on Bermondsey Street, too. There are two big parks on the east side of the street, and a wide square that's perfect for soaking up the scene.
Tanner Street Park is full of walking paths and benches. It's a fun place to enjoy a coffee or sit and watch the world go by. There are tennis courts for the athletically inclined, too.
At the southern end of the street, St Mary Magdalen Churchyard is a big green space with footpaths among the historic tombs. There are good views of The Shard from the southeast corner, too.
Bermondsey Square
Right across the street, Bermondsey Square is an open courtyard surrounded by contemporary buildings filled with restaurants and cafes.
Every Friday, the Bermondsey Antique Market fills the square with stalls selling everything from vintage furniture to secondhand sliver.
There's also a hotel here. The Bermondsey Square Hotel is a great place to stay if you want to be right in the heart of the action. You can book a room here.
Local Area
There are a lot of places around Bermondsey Street that are worth a visit when you're in the area. The Shard is just down the road, and it's packed with restaurants, bars, a hotel, and some of the best views of the London skyline.
Between The Shard and Bermondsey Street, Vinegar Yard is a great outdoor venue with markets, bars, and more. It's a fun place to go on a sunny day to browse the wares or have drinks with friends.
Down Tanner Street, Maltby Street Market is my favorite under-the-radar market in London. Set under the railway arches on Ropewalk, it has amazing food stalls and restaurants selling all kinds of delicious prepared foods and drinks.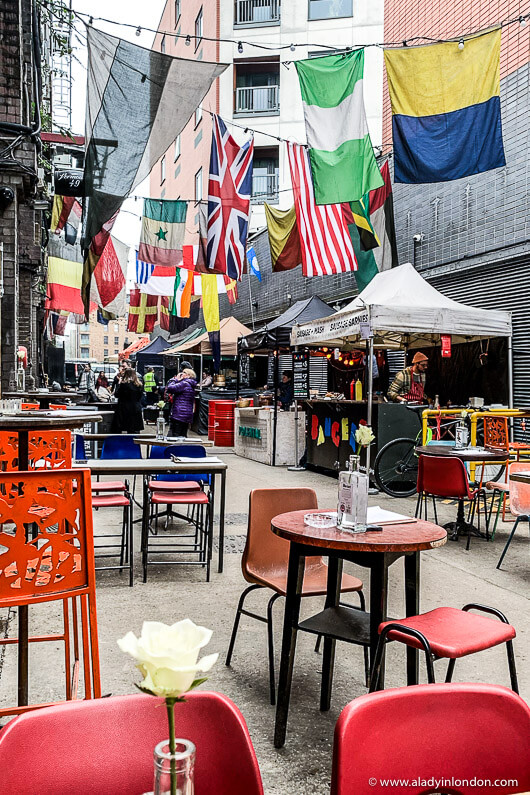 Speaking of which, Borough Market is just down the road from Bermondsey Street, too. London's foodie mecca, this place is famous for its culinary offerings.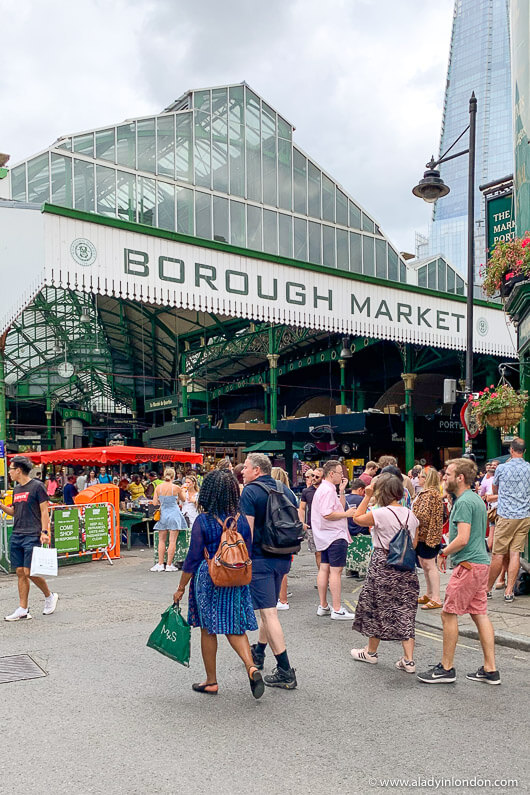 Self-Guided Walk
If you want to explore more of the area around Bermondsey Street, my free self-guided London Bridge walk is just the thing. It will take you around the neighborhood and show you the highlights.
Bermondsey Street Map
If you want to get your bearings, you can find a map of Bermondsey Street here. It will show you all the places I mentioned in this blog post and more.
Bermondsey Street
I hope you've enjoyed this guide to Bermondsey Street, and that it's gotten you excited to discover this part of London. It's hard to believe how much goodness one road can pack in, but when you get here you'll see for yourself. I hope you can head over soon!
New here? Join thousands of others and subscribe to the A Lady in London blog via email or Bloglovin'.
One of the links in this blog post is an affiliate link. At no cost to you, I earn a small commission when you click on it and make a purchase. It doesn't affect the way you shop, and it's a great way to support the A Lady in London blog.
Pin it!