Exciting news! I've created a self-guided royal walk in London and a brand new collection of London souvenirs to go with it. The free royal walking tour will guide you past palaces and through parks while letting you walk in the footsteps of the Queen. The collection features a map of the walk, and it's available on tote bags, mugs, tea towels, and art prints. Fun, right? Read on for more.
Royal Walk in London
I came up with the route for my royal walk in London in honor of the Queen's Platinum Jubilee, which is being celebrated across the UK (and the world) in 2022.
From Kensington Palace to Buckingham Palace and the Tower of London, the route covers royal residences across the city. But that's not all. It also goes past places with connections to the royal family, including hotels, department stores, and mews.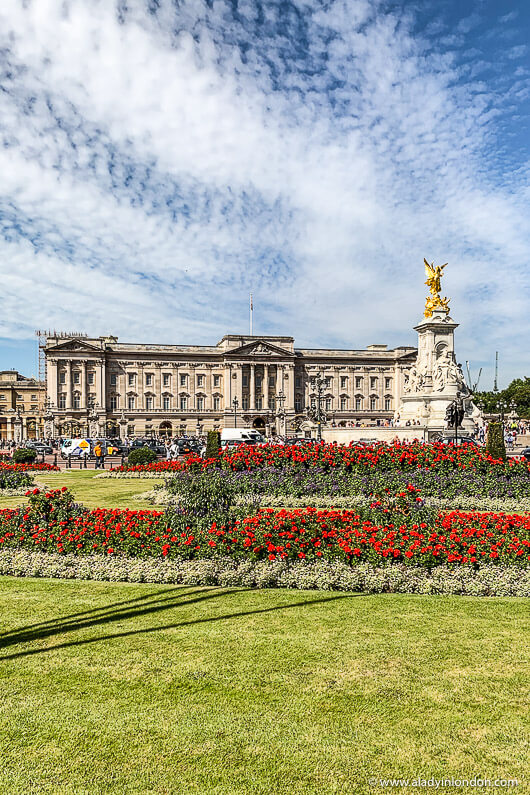 Along the way the royal walking tour will take you into London's Royal Parks, down iconic streets, and through beautiful neighborhoods.
Royal Walk Collection
The Royal Walk collection also celebrates the Queen's 70 years on the throne. I've been working on it behind the scenes with To Home From London for months, and I'm so happy to be able to share it with you today!
The design features landmarks from the walk as well as an image of the Queen. It incorporates classic British symbols like red phone boxes, roses, swans, and the Union Jack, too. It's a celebration of all things royal and the United Kingdom itself.
You can see the whole collection and get Royal Walk mugs, tea towels, tote bags, and art prints on the To Home From London website. If you get a mug, you can choose your own color and personalize it with your name (or someone else's) or a message.
All the items are made in London and ship worldwide, so you can order them from anywhere. I hope you like them!
If you're in London, you can also pick them up in To Home From London's shop or their pancake art cafe, both of which are in Camden. You can see their locations here.
As always, the original A Lady in London collection by To Home From London is available as well.
Royal Walk Route in London
The route of my royal walk goes from Kensington Gardens to the Tower of London. Along the way it passes famous landmarks like Westminster Abbey and lesser-known royal attractions like Queen Caroline's Temple.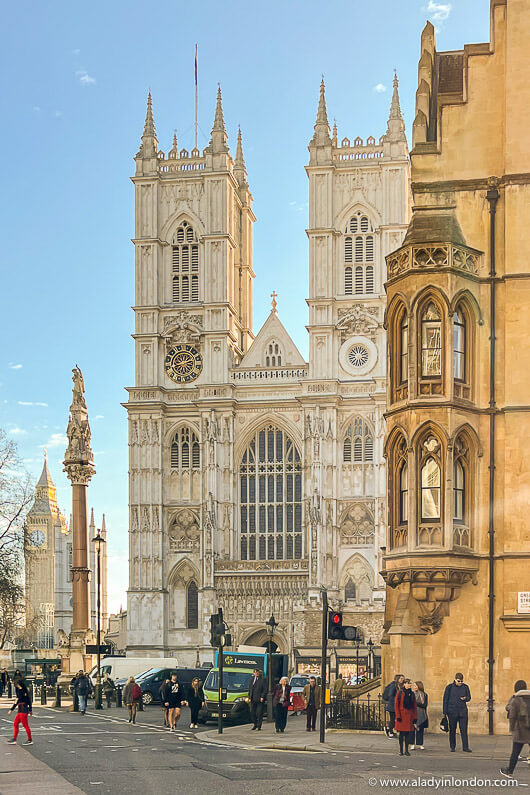 This is one of my longer London walks, so you can make a day of it or break it up over a couple days if you want to do it at a leisurely pace. You can also combine it with my City of London walking tour, as that one ends at the same place this one does.
Whatever you decide, you'll go past lots of great royal sites and points of interest. There are plenty of places to eat, drink, and rest along the route, too.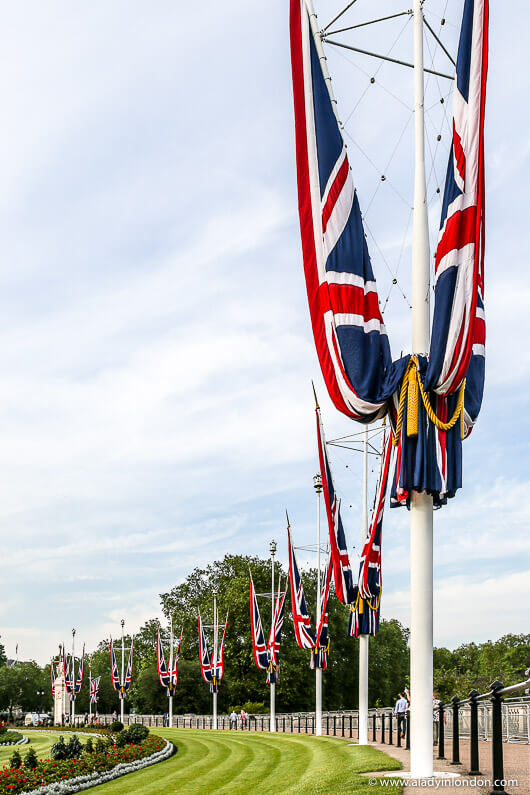 Self-Guided Royal Walking Tour of London
This London walk starts at Kensington Palace, a famous royal residence. Set right in Kensington Gardens, it first attracted William III and Mary II, who chose it as their country retreat in 1689.
Over the centuries, everyone from Queen Victoria to Princess Diana and Princess Margaret has resided here. Currently it's the official residence of Prince William, Kate Middleton, and their children.
Kensington Gardens and Hyde Park
Once you've admired the facade (or taken a tour of the interior), walk east to the Round Pond and keep right to stay on the southern edge of the water.
When you get to a path that goes southeast, turn right and follow the series of walkways leading to the Serpentine Gallery. (The detailed map below can help with this part of the walk, as the paths aren't named).
When you're just north of the gallery, turn left to get to Queen Caroline's Temple. This Neo-classical summer house overlooks the Long Water, which was created for Queen Caroline in the 1730s.
After admiring the temple, turn back and retrace your steps to the path you were on before, then make your way over to the Long Water, across West Carriage Drive, and to the Serpentine.
This famous lake is the defining feature of Hyde Park, and it's a great place to soak up the atmosphere.
Soon you'll come to the Princess Diana Memorial Fountain. This water feature was opened by the Queen on July 6th, 2004. Made from 545 pieces of Cornish granite, its unique circular shape was designed to reflect Diana's life.
After taking in the memorial, continue your walk along the southern edge of the Serpentine. You'll pass a cafe as you go, so you can enjoy a drink or snack on the waterfront if you want to.
If not, continue your royal walk by keeping straight along the water's edge.
When you reach the southeastern corner of the Serpentine, take a slight right to walk down to South Carriage Drive and take Albert Gate to get to Knightsbridge.
Belgravia
Turn left on the street called Knightsbridge, then right on Wilton Place. This street will take you into the heart of Belgravia, one of the nicest neighborhoods in London.
Turn left on Wilton Crescent, following it around to Belgrave Square. This place is home to a lot of embassies, so keep your eyes out for flags.
Walk along the northeast side of Belgrave Square, staying on this road as it becomes Upper Belgrave Street and then Eton Square.
When you reach Eton Square, turn left on Hobart Place, then right on Grosvenor Gardens. After you pass the garden square, turn left on Beeston Place.
This street will take you past The Goring, the hotel where Kate Middleton stayed the night before she married Prince William in 2011 (the Queen Mum is said to have liked this hotel, too). If you want to book ahead, afternoon tea at The Goring is a treat.
If not, continue your royal walk in London by turning right on Victoria Square. Here you'll pass by a statue of Queen Victoria as you make your way to Buckingham Palace Road in Victoria.
Buckingham Palace
When you get there, turn left and walk towards the palace itself. Along the way you'll pass the Royal Mews and the Queen's Gallery, both of which are worth a visit if you have time.
The former has an impressive collection of carriages, and the latter hosts exhibitions with world-class art from the Royal Collection (it's the largest private art collection in the world).
If you don't stop, continue your walk by veering left on Spur Road. Here you'll start to see Buckingham Palace. This is the monarch's official residence in London, and it's a must on any royal walking tour.
You can time your walk to coincide with the Changing the Guard ceremony or take a tour during the annual Buckingham Palace summer opening if either is on when you're here. Otherwise you can take in the scene at your leisure.
Green Park
From the palace, continue your royal walk in London by heading into Green Park. This is one of the best parks in London, and it's famous for its spring daffodils and leafy walking paths. It's also one of my favorite picnic spots in London.
More importantly, it's a location for royal salutes. They're held here to mark anniversaries and special occasions like jubilees and the births of royal babies.
St James's
Walk northeast through the park to get to the little passageway at the eastern edge that leads to Cleveland Row in St James's. When you get there, walk down Cleveland Row to Stable Yard.
Here you'll be able to catch a glimpse of Clarence House. This royal residence was built in the 1820s for the Duke of Clarence, who later became King William IV. Today Clarence House is the official London residence of the Prince of Wales.
As you continue down Cleveland Row, you'll come to St James's Palace. One of the most important royal palaces in London, it was built in the 16th century by Henry VIII.
Queen Elizabeth I lived here during the threat of the Spanish Armada, and Charles II, James II, Mary II, and Queen Anne were all born and baptized here.
Today St James's Palace is used for receptions and is the home of several members of the royal family and their offices.
After admiring the palace, turn left on St James's Street and walk up to King Street. Along the way you'll pass Lock & Co, the oldest hat shop in the world and a Royal Warrant holder.
When you reach King Street, turn right. You'll go by auction houses and classic pubs as you make your way to Duke Street. Once there, turn left and pass art galleries and more pubs as you head to Fortnum & Mason.
This famous department store is home to the Diamond Jubilee Tea Salon, which the Queen herself opened in 2012 in honor of her Diamond Jubilee. If you want to, you can book ahead and stop here for afternoon tea.
If not, continue your royal walk in London by turning right on Piccadilly. This famous thoroughfare will take you all the way down to Piccadilly Circus.
When you reach it, turn right to walk down Lower Regent Street. Continue on it as it becomes Waterloo Place. When you reach Carlton House Terrace, descend the steps and take in the towering Duke of York Monument as you go.
At the bottom of the stairs you'll find yourself on The Mall. This street is regularly used for royal processions and events. Take a moment to soak up the eye-catching view of Buckingham Palace at the end.
Once you've enjoyed it, cross the street and turn right on Horse Guards Road. It will take you past St James's Park to Horse Guards Parade.
This is another site of royal events, including Trooping the Colour, a ceremony that has marked the official birthday of the British sovereign for nearly 300 years.
Whitehall
Continue your royal walk by heading into Horse Guards Parade and passing through the arch at the eastern end. Here you'll find yourself on Whitehall, a street that was home to a famous royal palace that burned down in 1698.
In its heyday it was the largest palace in Europe, with more than 1,500 rooms. Today all that's left of Whitehall Palace is Banqueting House.
Designed by renowned architect Inigo Jones in the 17th century, it has stunning painted ceilings by Peter Paul Rubens.
You can go into Banqueting House to see it, or continue your royal walk by turning right on Whitehall and walking down towards Westminster.
Westminster
When you reach Parliament Square, you'll be surrounded by all kinds of impressive London landmarks.
From Big Ben to the Houses of Parliament and Westminster Abbey (where Prince William and Kate Middleton were married in 2011), there's a lot to take in.
The Houses of Parliament sit on the site of the Palace of Westminster. There's been a royal palace here since the 11th century, and it was the primary residence of the monarchs of England until a fire destroyed much of it in 1512.
After that, it served as the home of parliament, which it continues to do today. However, the Palace of Westminster is still owned by the monarch and retains its status as a royal residence.
Spend some time exploring the square (you can visit Westminster Abbey or pre-book a tour of the Houses of Parliament if you want to), then continue your royal London walking tour by heading down Bridge Street towards the Thames.
Embankment
When you get to Westminster Bridge, turn left on Victoria Embankment and follow the river east. Along the way you'll get great views of the South Bank, the London Eye, the Royal Festival Hall, the Jubilee Park & Garden, and other attractions.
You'll also pass under the Golden Jubilee Bridges, two footbridges named in 2002 in honor of the Queen's Golden Jubilee.
After passing Victoria Embankment Gardens, head into Somerset House. This behemoth has a long history and lots of royal connections.
Queen Elizabeth I lived in a previous incarnation of the house before she was crowned, and Anne of Denmark and Catherine of Braganza called it home in their days.
You can spend time exploring the interior and famous courtyard of Somerset House, then exit onto the Strand and turn right to walk towards the City of London.
City of London
Head down the Strand, continuing as it becomes Fleet Street. You'll pass the Royal Courts of Justice, Temple, and some of the oldest pubs in London as you make your way east.
After you cross the intersection with Farringdon Street and New Bridge Street, Fleet Street will become Ludgate Hill. Continue straight until you reach St Paul's Cathedral, where Princess Diana and Prince Charles were married in 1981.
You can go inside and visit the church, or continue your royal walk in London by heading east as Ludgate Hill becomes St Paul's Churchyard and then Cannon Street.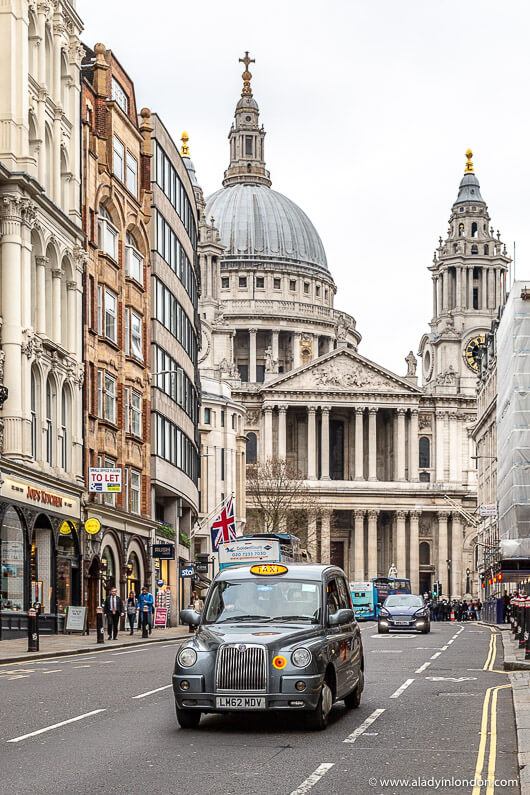 Cannon Street will take you all the way to Monument station, where you'll continue straight on Eastcheap. Keep following the road as the name becomes Great Tower Street, and take in the old-meets-new scenery as you go.
Tower of London
When you reach Byward Street, turn left and follow it around as it takes you takes you to Tower Hill and the Tower of London.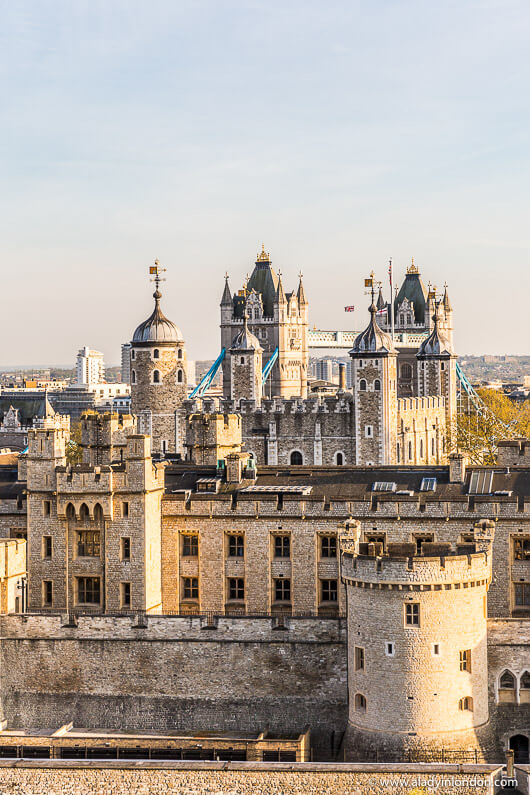 You can visit the Tower of London (and nearby Tower Bridge) if you'd like to, or admire it from a distance. Either way, this historic fortress dates back to the 11th century and has lots of royal connections.
Today it's home to the Crown Jewels, among other state treasures. The Jewel House where they're stored was opened by Queen Elizabeth II in 1994.
After taking in the tower, make your way through Trinity Square Gardens to the Tower Hill tube station. Your self-guided royal walking tour of London ends here.
Royal Walk in London: Map and Details
Royal Walk in London
I hope you enjoyed this royal walking tour and that it's inspired you to get out and see these special places in London for yourself.
I hope you find something you like from the new Royal Walk collection, too. The design is ideal for commemorating your tour or celebrating the Platinum Jubilee. Getting something is also a great way to support the A Lady in London blog.
I've published many more London walks and pulled them together in my London walking tours blog post, too. It's just the resource if you want to find all my routes and maps in one place.
There are other walks to be discovered in London's Hidden Walks, too. You can get it on Amazon here. There are more ideas in my London walking books post as well. Happy walking!
New here? Join thousands of others and subscribe to the A Lady in London blog via email or Bloglovin'.
Some of the links in this blog post are affiliate links. At no cost to you, I earn a small commission when you click on them and make a purchase. It doesn't affect the way you shop, and it's a great way to support the A Lady in London blog.
Pin it!