If you're planning to visit northwestern Scotland, then it's likely you're going to need to rest your head for a night or more on the Isle of Skye. The biggest of the Inner Hebrides is a very popular tourist destination indeed. Portree is the capital, and the island is some 50 miles long.
With accommodation dotted around the island, you may well be wondering where to stay on the Isle of Skye. Is Portree the best town to stay in on the Isle of Skye, for example, or should you look elsewhere for a high standard of accommodation as well as a lovely location?
This complete guide to where to stay in Skye will help you work it all out. By the end of this article, you'll know exactly where to stay in Portree, Scotland – or any of the island's other settlements – to help you make the most of every moment you spend on Skye.
We know where best to stay on Skye precisely because we've very recently visited ourselves on our Scottish road trip. So read on to find all the places to stay in Skye you might be interested in, no matter what your preferences and budget. Let's get stuck in by taking a look at where you can stay on Skye.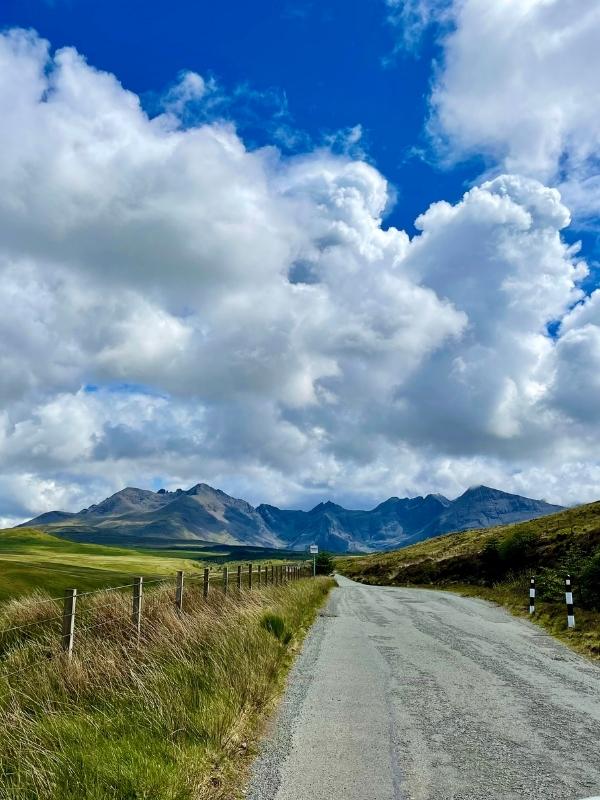 Quick picks
Eager to book your Isle of Skye accommodation? These are our quick picks of the best Skye accommodation!
| | | | |
| --- | --- | --- | --- |
| | | | |
| | | | |
| | | | |
| Tianavaig View Apartments | | | |
| | | | |
| | | | |
| | | KENSALEYRE – CENTRAL SKYE | |
A 5 area guide to where to stay on Skye
Firstly, let's begin by giving you a simple, brief outline of the main areas to help you decide where to stay on the Isle of Skye, Scotland.
Portree & east coast
In a nutshell – Portree is Skye's capital and known for its brightly-painted seaside buildings. There are plenty of amenities here, but it can get very busy during high season.
Portree is a very popular answer to the question of where to stay when visiting the Isle of Skye. As the island's capital, there are more amenities such as bars, restaurants, cafes and shops to choose from here. It's on the eastern side of the island.
Attractions like Kilt Rock, the Old Man of Storr and Quiraing are within half an hour's drive of Portree. The town also has a famous row of very photogenic and colourful buildings, cultural facilities like the local theatre, film and concerts centre.
Before deciding where to stay in Portree on the Isle of Skye, you should be aware of the downside. It's very touristy and can therefore get packed, especially in summer.
Tip – Make restaurant bookings ahead of time, especially in the summer months.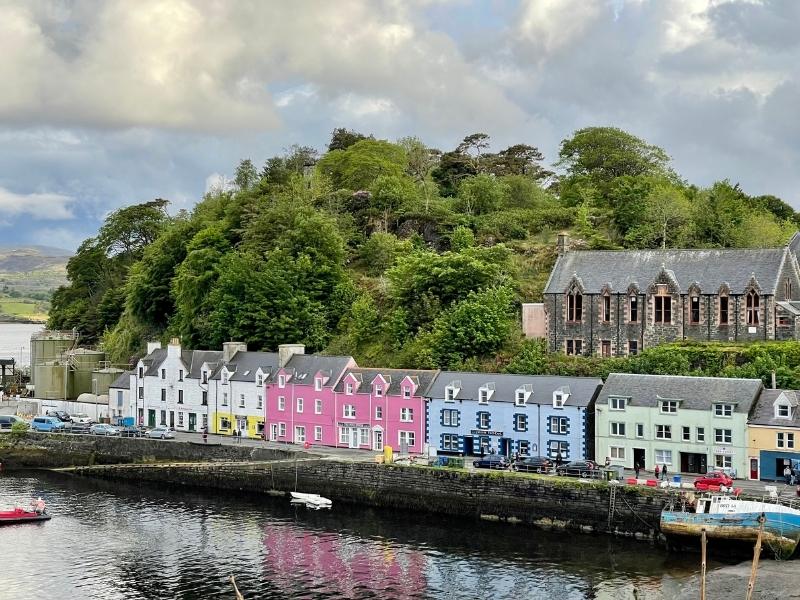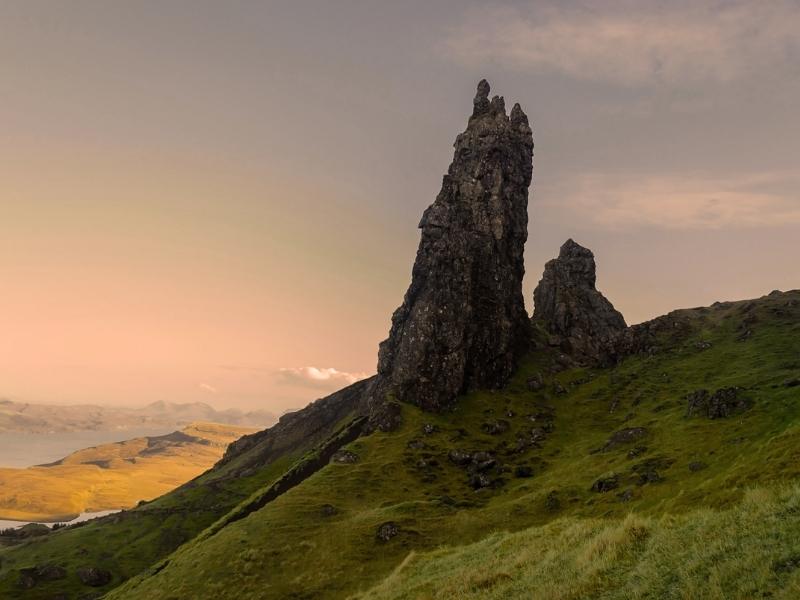 Uig
In a nutshell – Uig is an incredibly scenic spot close to the centre of Skye's west coast. With some facilities, a stunning setting and scenic walks, it's a solid option for those seeking peace.
Uig can be found on the western side of Skye, and is also a good bet in terms of reaching local attractions. The Fairy Glen is located here and other places of interest are within a 30 or 45 minute drive.
While Uig isn't exactly a buzzing metropolis, it does have a few pubs and shops. Scenic walks can be accessed easily from here, and there's a reasonable range of amenities.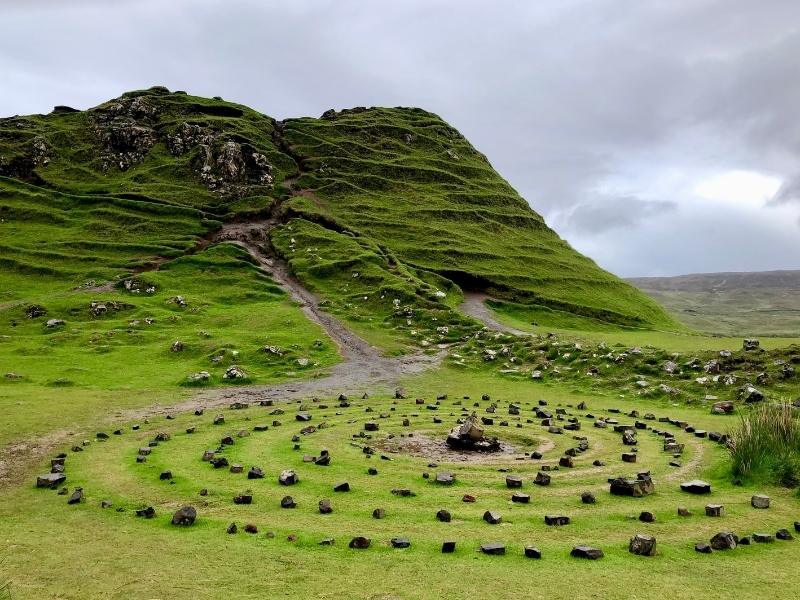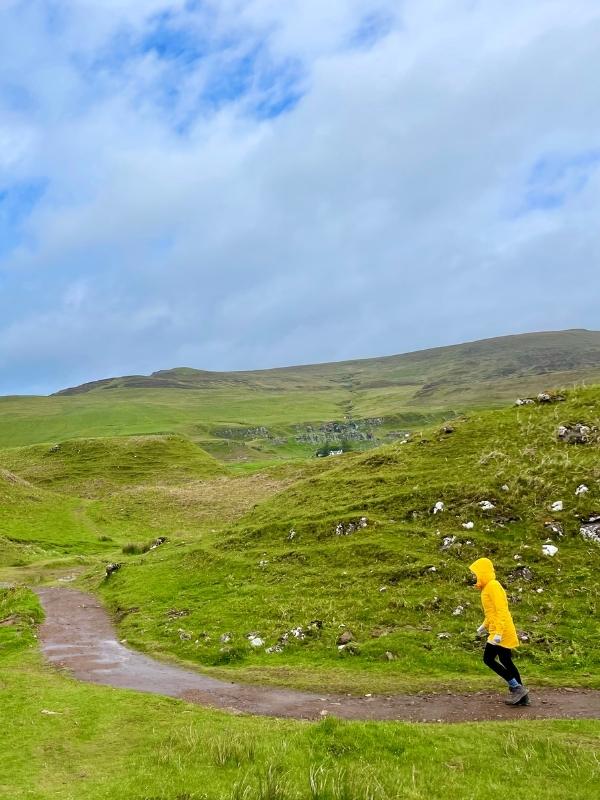 Staffin
In a nutshell – Staffin is a quiet spot with a history dating back to Jurassic times. Dinosaur footprints can be seen at An Corran Beach here.
Tranquil Staffin is a lovely spot in summer, though it can be too quiet for some out of season. Do note that local amenities here often close for the colder months of the year.
Unspoiled An Corran Beach is a big draw here, where real dinosaur footprints can be seen.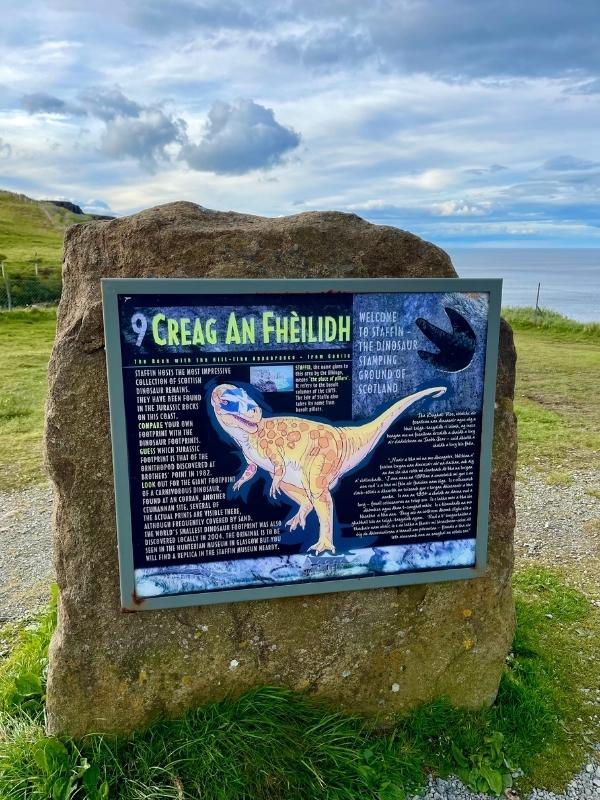 Central Skye
In a nutshell – Staying in central Skye means you can easily access attractions all over the island. There is some top quality accommodation here too.
Stay in central Skye and you can, perhaps surprisingly, remain near the water. Skeabost House Hotel, for instance, can be found by Skeabost bridge and Loch Snizort as well as a river popular with fishing fans.
Even locations in central Skye are often within easy reach of Portree: the Skeabost View glamping pods, for example, are just five miles away.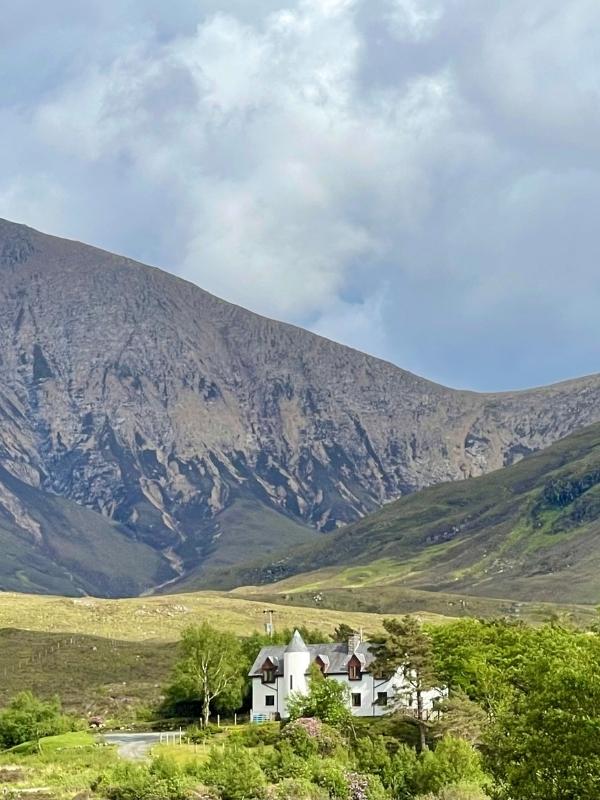 Dunvegan
In a nutshell – Dunvegan lies to the west, and is one of Skye's larger settlements. In the area you'll find Dunvegan castle, a toy museum and some very good hotels.
Dunvegan is also a popular spot and offers some of the best places to stay on the Isle of Skye. The local castle is a must for history fans, too. Dunvegan is situated to the west of Portree, close to the coast.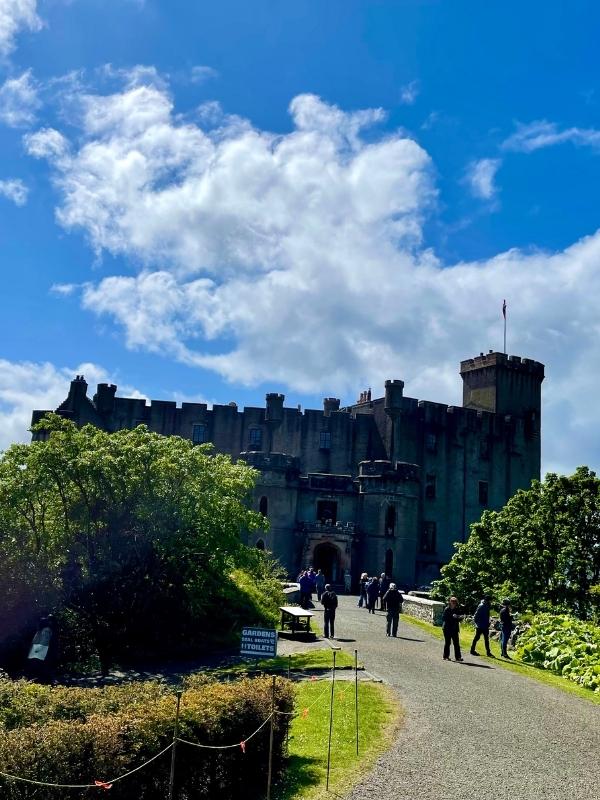 10 of the best places to stay on Skye
Cuillin Hills hotel comes up again and again on lists of where to stay in Portree, Skye. Reasons for its enduring popularity include the sweeping views over the Cuillin Mountains, a top-notch restaurant and the fact that it's set within 15 acres of private grounds. This means it's easy to escape the crowds when staying here.
Rooms here offer crisp, contemporary decor and modern facilities and range in size from 'cosy' (i.e. small) or standard doubles to seaview or turret rooms. This hotel is perfect for those hankering after peace, ocean views or a romantic ambience.
First class on-site restaurant
Location: Portree area
Star rating: N/A
If you want to stay in central Portree and have access to self-catering facilities, pick Tianavaig View Apartments. All units have a well-equipped kitchen, a dining area and a lounge.
Private parking is also available here – a definite bonus when staying in Portree. There's a selection of ground floor units and first floor apartments with balconies. Central Portree is just five minutes away on foot and there are harbour views from inside and out.
Pluses:
Harbour views
Close to town centre facilities
Well-equipped accommodation
Minuses:
Location: Portree area
Star rating: ⭐️⭐️⭐️⭐️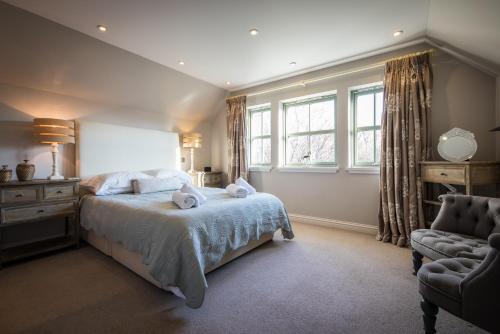 Canowindra offers exceptional accommodation for those pondering where to sleep on the Isle of Skye. This welcoming bed and breakfast offers free private parking, so it's ideal for those with a car.
As well as the usual full Scottish breakfast, gluten-free, vegan and vegetarian options are offered. Rooms are very comfortable indeed and range from large doubles to King rooms with mountain or garden views.
Pluses:
Peaceful spot
Within easy reach of Portree
Clean, comfortable & spacious rooms
Minuses:
Not ideal for public transport users
Location: Uig
Star rating: ⭐️⭐️⭐️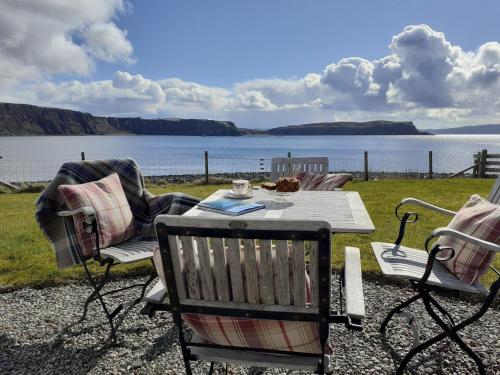 The location of the Beach House is incredible – just a minute's walk from the beach. As well as the pleasing range of en-suite rooms, there's access to a guest lounge and pretty outdoor garden.
Double or King rooms are available – and all have sea views. The breathtaking location and freshly-cooked Scottish breakfast served here come highly recommended.
Pluses:
Right by beach
Sea views from all rooms
Filling Scottish breakfasts
Minuses:
Not in Uig village centre
Location: Staffin
Star rating: ⭐️⭐️⭐️⭐️
Benview bed and breakfast in Staffin is one to add to your Isle of Skye where to stay shortlist. Rooms come with a double bed, and some also have a single for small families (or extra space).
The warm Scottish welcome extended to guests makes this place stand out. The setting is stunningly beautiful and the property is also conveniently located for visiting attractions like the Old Man of Storr and Quiraing.
Pluses:
Stunning setting
A very warm welcome
Some amenities in Staffin
Minuses:
Local amenities may close in winter
Location: Skeabost Bridge, central Skye
Star rating: ⭐️⭐️⭐️⭐️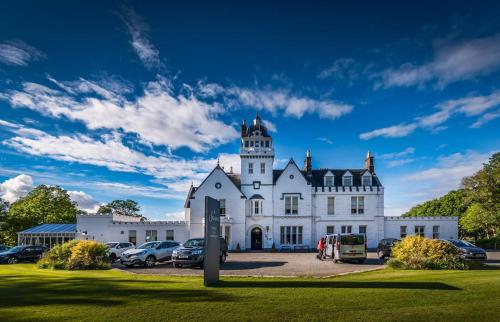 Skeabost House Hotel in the centre of Skye is also near the water, as it's positioned close to the Skeabost bridge and Loch Snizort. Portree is ten minutes away by car and it's easy to drive all over the island from here.
Other reasons to stay here include the West Pier Restaurant, the hotel's own Ghillie who will share with guests their knowledge of the best local fishing spots and boutique-style accommodation ranging from standard rooms to a family suite.
Pluses:
On shores of Loch Snizort
Trout & salmon fishing nearby
Boutique-style accommodation
Minuses:
Location: Peiness, central Skye
Star rating: ⭐️⭐️⭐️⭐️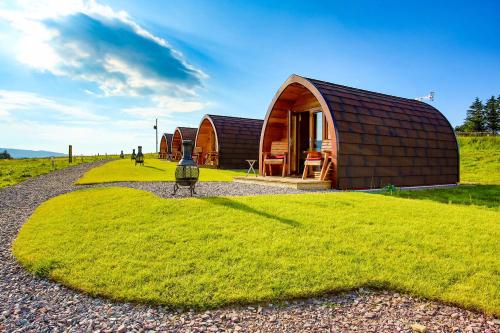 If you fancy something a little different when seeking the best places to stay on the Isle of Skye, how about a cute, purpose-built glamping pod? These are so much more luxurious that staying under canvas, and the compact designs used here are a marvel.
Portree is just five miles distant, so it's easy to reach shops, restaurants, pubs and more when you feel like it. Every pod also has its own bathroom, heating, an outdoor patio and a kitchenette kettle, microwave and toaster. The setting ensures river and mountain views from across the site.
Pluses:
5 miles from Portree
Incredible purpose-built pods
River & mountain views from private patio
Minuses:
No shared facilities on site
Location: Kensaleyre, central Skye
Star rating: ⭐️⭐️⭐️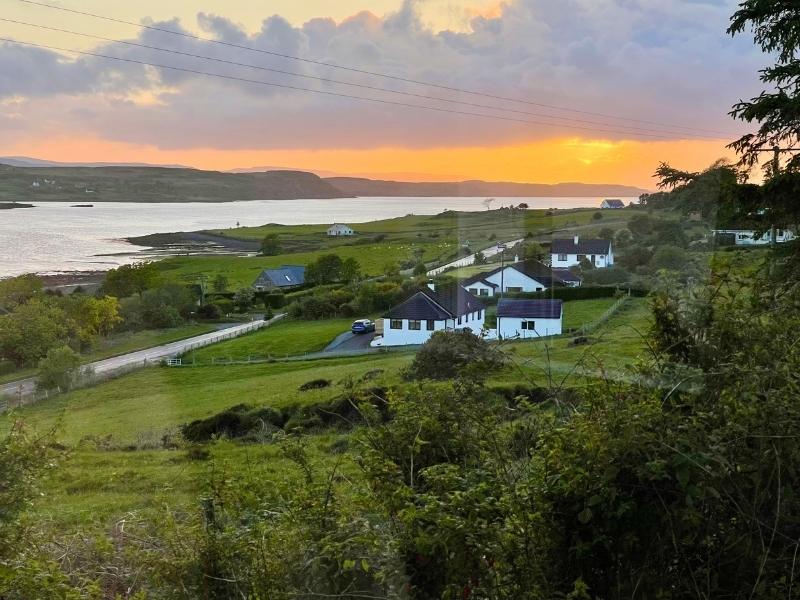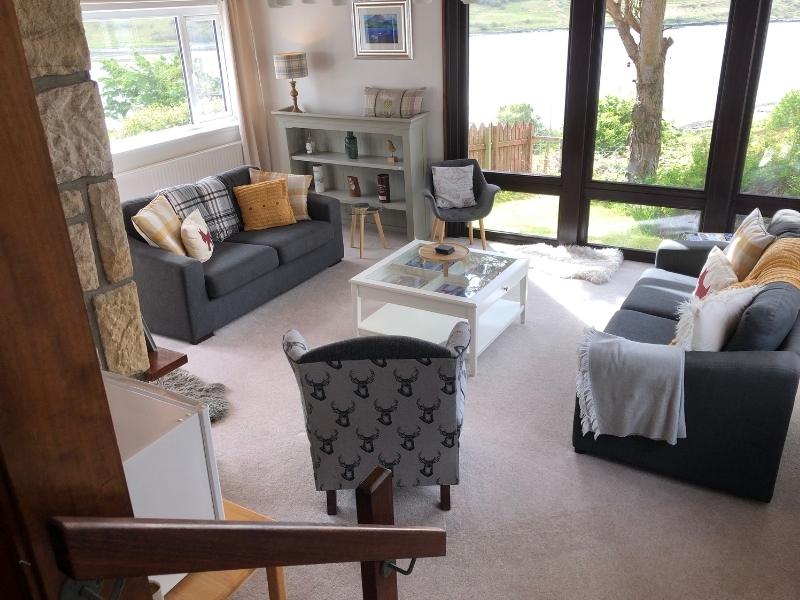 We stayed at Loch Eyre House ourselves during our recent visit to Skye – and loved it! There are views over the waters of Loch Snizort Beag, or the garden. It's under seven miles from Portree, and also well located for exploring the whole island.
There's a lovely shared lounge with sea views, and the breakfast served up each morning is both delicious and filling. The warm welcome and helpful staff were also much appreciated. As well as twins and doubles, this guest house offers triple and quadruple accommodation.
Pluses:
Good range of room types
Under 7 miles from Portree
Views of Loch Snizort Beag
Minuses:
Some rooms & bathrooms rather small
Location: Edinbane, central Skye
Star rating: ⭐️⭐️⭐️⭐️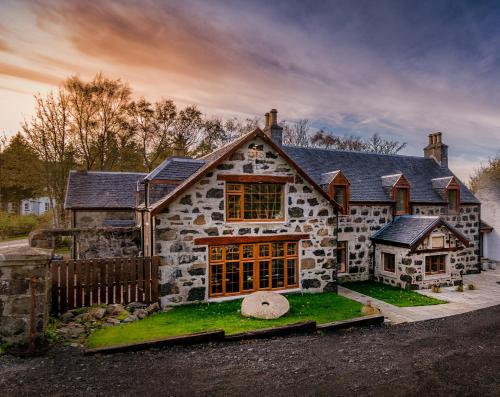 Sharing half of its name with the Scottish capital, Edinbane is also in central Skye. Edinbane Lodge is an impressive property with useful amenities like a restaurant, private parking and coffee machines in every room.
Portree is around 15 miles from Edinbane. Some accommodation offers garden views, and the position is ideal for reaching both the north and south of Skye.
Pluses:
Restaurant on site
Conveniently central
Fabulous food served here
Minuses:
Location: Edinbane area, central Skye
Star rating: ⭐️⭐️⭐️⭐️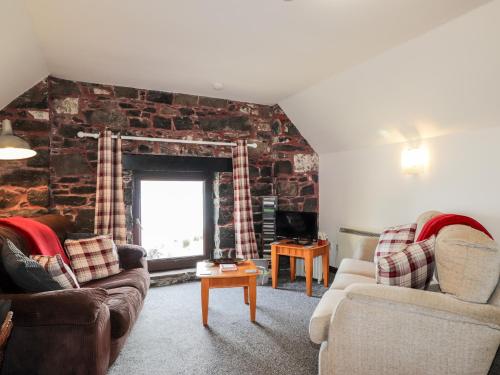 Greshornish House Hotel occupies a peaceful and pretty position close to the water and Edinbane. There is a bar, restaurant and garden on site.
Accommodation options range from small doubles to larger superior or deluxe doubles, twins, and family rooms. The restaurant here is a great place to try modern British cuisine, and afterwards you can relax in the bar with a wee dram or two.
Pluses:
Tranquil location
Water & garden views
On-site bar & restaurant
Minuses:
Location: Dunvegan
Star rating: N/A
Atholl House is a highly rated guesthouse in Dunvegan. It offers cosy, comfortable rooms with en-suite bathrooms and serves up a delicious breakfast daily.
Some accommodation has mountain views, and there is a range of twin, double and King rooms available.
Pluses:
Comfortable rooms
Homely atmosphere
Breakfast served daily
Minuses:
Where will you stay on Skye?
We really do hope you'll love the Isle of Skye as much as we do – and that all starts with where to stay!
Hopefully, this guide has helped to answer your questions about where to stay on the Isle of Skye, and you'll have a fabulous time on this glorious Scottish island!
For more on Skye, check out our complete Isle of Skye travel guide and article on the best tours to take to or on Skye and our one day in Skye itinerary.
More to read about visiting Scotland: