Today I want to share my route for a self-guided Highgate walk with you. This part of north London is famous for its beautiful houses, impressive Victorian cemetery, leafy green spaces, and local pubs. Highgate is one of the most elegant neighborhoods in London, and it's a great place to discover on foot. My walking route will take you to the best places in the area and let you explore its high streets, side streets, and hidden spaces. I've included a map as well.
Highgate Walk
From the shops on Highgate High Street to the houses in Holly Village and the pubs on North Road, this is one of the best local areas in London.
My favorite thing about Highgate is its mix of all things lovely. From independent shops and pubs to heritage houses and big green spaces, this area has an abundance of things I like about London.
My Highgate walk is an ideal way to get into the neighborhood's local scene, discover the side streets, walk through the woods, and explore a part of the city most visitors (and many locals) miss.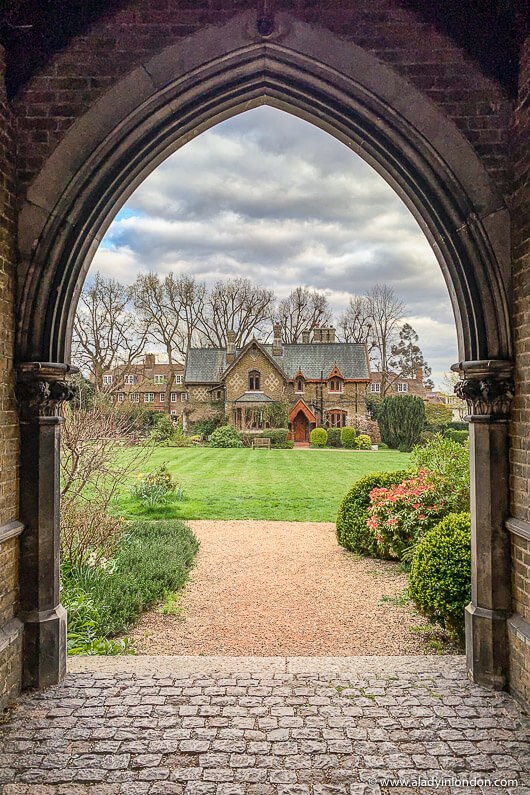 You can find additional walks in the book London's Hidden Walks, too. It's ideal if you want to get to know the city's under-the-radar areas. You can get it here.
I've also written a whole blog post about London walks books. You can take a look at it if you want further options.
Highgate Walk Route
My self-guided Highgate walk starts at the Highgate tube station. It has lots of public transport links, so you can arrive on the Northern Line of the Underground or by local bus, bike, or on foot from other north London areas.
Start this Highgate walk by exiting the station and heading northwest up Archway Road. When you reach Muswell Hill Road, turn right and walk up to the entrance to Highgate Wood on the left side of the road.
Highgate Wood is enchanting. It will whisk you off to a fairy-tale land with its wide walking paths and larger-than-life trees.
Spend some time wandering the paths, then exit Highgate Wood where Archway Road meets Church Road. Cross Archway Road where it's safe and walk down Chruch Road until you reach Talbot Road.
Take a left on Talbot Road and continue your Highgate walk by going all the way down to the end. You'll start to get a feel for the area's residential architecture as you go.
When you reach The Park, turn right on the little alley that is Park House Passage and go straight until you reach North Hill.
Once on North Hill, turn left and pass by local pubs and restaurants until you reach a small cut-through between Kipling Indian and The Wrestlers. Turn left there and follow the passageway over to Southwood Lane.
Cross over Southwood Lane where it's safe and turn left up Jacksons Lane. Take an immediate right on Southwood Lawn Road and your next left on Southwood Avenue. Follow the street to Highgate Avenue and take in the pretty houses as you go.
When you reach Highgate Avenue, turn right and follow it as it curves and becomes Southwood Lawn Road.
When you reach the passageway on your left, go down it to get to Cholmeley Crescent. Turn left on Cholmeley Crescent and then right on Cholmeley Park.
Follow Cholmeley Park all the way to Highgate High Street, then turn left and walk down past the elegant buildings on The Bank.
When you get to the entrance to Waterlow Park by Lauderdale House, enter the park and spend some time walking around. There are great views of the city from here, and pretty ponds as well.
When you're done, exit the park at the other entrance on Highgate High Street and turn left. Walk up the high street and take in the shops, cafes, pubs, and restaurants as you go. You can take a break for a meal, snack, or drink if you want to.
If not, continue your Highgate walk by going up to the roundabout at Highgate West Hill and North Road. Turn left on Highgate West Hill and take your first left down the little alley that leads to Pond Square.
Explore Pond Square at your leisure. It's full of eye-catching details, so make sure to look up as you go. When you're done, exit the square via Swain's Lane.
As you walk down, you'll find Highgate Cemetery on either side of you. This famous Victorian number is open for tours and visits, so you can go in and see the graves of notables like Karl Marx if you want to.
If not, continue your Highgate walk by going all the way to the end of Swain's Lane. Don't miss the stunning arch of Holly Village on the corner of Chester Road as you go. It's one of the most beautiful places in the area.
Just before you reach Highgate Road, you'll pass by a number of cafes. You can stop for a break if you need one.
If not, your Highgate walk continues with a left on Highgate Road and a quick right into Hampstead Heath.
This is one of London's biggest and wildest parks, and it's worth walking up to the top of Parliament Hill for the views over the city. You can also swim in the bathing ponds if you want to.
When you're done, exit the park at the entrance across from Croftdown Road and turn right on Highgate Road.
Follow Highgate Road to Lady Somerset Road and turn left. Walk down it until you reach Fortess Road, then turn left. When you reach Brecknock Road, you'll see the Tufnell Park tube station.
Your self-guided Highgate walk ends here. You can get on the tube or spend some time exploring the area.
Walk Details and Map
Below you'll find the details and map for this Highgate walk, as well as other neighborhoods and places you can explore when you're done.
Time: 2 – 3 hours (depending on time in the squares, cemetery, parks, and cafes)
Map of the first half of the walk: https://goo.gl/maps/mgQVCwVpb5My4usk9
Map of the second half of the walk: https://goo.gl/maps/PHx5KRadmwgXNbjq7
Further afield: Hampstead, Kentish Town, Belsize Park, Archway, Crouch End, Tufnell Park, Muswell Hill, South End Green
Highgate Walk
I hope my Highgate walk has made you look forward to getting outdoors and exploring this this part of the city on foot. It's one of the nicest neighborhoods in London, and it's the perfect place to discover a local part of the UK capital.
If you want to do more walks around this area, head over to my blog post about north London walks. You can see additional self-guided walks and maps on my London walking tours blog post as well. Happy exploring!
New here? Join thousands of others and subscribe to the A Lady in London blog via email.
One of the links in this blog post is an affiliate link. At no cost to you, I earn a small commission when you click on it and make a purchase. It doesn't affect the way you shop, and it's a great way to support the A Lady in London blog.
Pin it!