Today I want to bring you my guide to vineyards near London you'll love. With hundreds of wineries in England, there are a lot of exciting places to go wine tasting near the UK capital. Whether you enjoy sparkling or still, established vineyards or new operations, there are wineries near London that will get your inner oenophile excited. If you're looking for an enjoyable day out or a weekend getaway, there's a vineyard in England for you. I've included a map as well.
Vineyards Near London
My guide to vineyards near London includes a variety of locations outside the city. Whether you prefer guided wine tours near London or independent tastings, there's an ideal place for you.
The British wine industry has grown by leaps and bounds in recent years, and there are a lot of places that welcome visitors. From Kent to Sussex and Hampshire, the best vineyards show off British wines at their finest.
And they are fine. Grown from the same chalky terroir as the Champagne region of France, English sparkling wines are winning awards right and left. White varietals like those common in Germany are thriving in the English climate, too.
Add to that bucolic landscapes, peaceful surroundings, and great drinks and food, and these wineries are perfect places to spend a day or two away from the city.
I've visited all the vineyards on my list, and I can personally attest to their quality. From the drinks themselves to the atmosphere and entertainment, they're worth a special trip. You can even combine some of them and visit a few in one getaway.
How to Get to Wineries Near London
If you want to go wine tasting near London, the best way to travel to the vineyards is by car or on a guided tour. Most are located in the countryside, and they're not next to train stations.
That said, some are near enough to rail lines that you can take a train most of the way and pre-book a taxi for the remainder of your journey. You can use the map below to plan your route. I've also noted some of the easier ones to get to by rail below.
I you want to take a guided tour, GetYourGuide offers small-group wine tours in Sussex. They're great ways to go wine tasting without having to worry about driving. You can learn more about them and book your ticket here.
1. Chapel Down Vineyard Near London
I'll start my list of vineyards near London with Chapel Down in Kent. One of the largest wineries in England, this place is famous for its sparkling wines. Rumor has it they were served at the Royal Wedding of Prince William and Kate Middleton.
Located near the market town of Tenterden, Chapel Down features a tasting room with produce from all over Kent and a rustic-modern restaurant with a rooftop terrace. Outside, the gardens are gorgeous and the vines roll with the hills.
Chapel Down offers a range of tours and tastings for visitors. I did a tasting when I went, and I was impressed by both the quality and variety of the wines. I loved the lush grounds and peaceful atmosphere, too.
If you want to do this as an overnight trip, you can book a hotel in Kent here. There are lots of beautiful places to stay in the area, including the unique Sissinghurst Castle Farmhouse. You can book a room here.
2. Biddenden Vineyard Near London
Biddenden comes next on my list of the best vineyards near London. It's one of my top picks for places to visit in Kent if you want to feel like a local.
Laid-back and family run, this winery has an intimate atmosphere and a rustic quality that connects visitors to the land and its produce.
Biddenden is also one of the most famous producers of Kentish cider. Their sparkling cider made in the champagne method is particularly delicious.
The winery offers both guided and self-guided tours. I did a guided tour of Biddenden's vineyards when I visited. They're home to some of the oldest vines in the country, and they're impressive to see.
I also got to take a peek at the bottling process before heading indoors for a tasting. It was fun to try the finished product right next to the fields where the produce was grown.
If you want to do this as an overnight trip, you can book a hotel in Kent here. Biddenden is near Sissinghurst Castle Farmhouse, too, so it's an easy place to stay if you want to visit both here and Chapel Down. You can book a room here.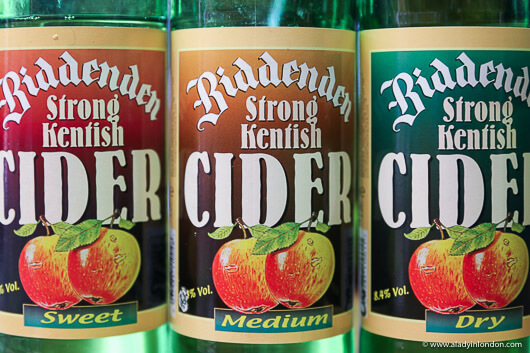 3. Hush Heath Estate (Balfour Winery)
Hush Heath Estate is home to Balfour Winery, and it's another of the best vineyards near London. This family-run English winery is set in the rolling hills of the Kent countryside near Staplehurst.
Hush Heath is particularly known for its Balfour Brut Rose, one of Britain's most recognizable wines. It offers a lot more besides just that one, though.
The 400 acres (162 hectares) of grounds at Hush Heath are bursting with grapevines, apple orchards, and ancient oak woodlands.
Visitors can do a self-guided stroll through the estate or join a guided vineyard tour and wine tasting experience in the winery. I did a guided tour here, and I was impressed by both the size of the place and the range of impressive wines I tasted at the end.
This is one of the best vineyards to get to by train, as it's only an 8-minute taxi ride from Staplehurst station in Kent.
If you want to do this as an overnight getaway, you can book a hotel in Kent here. Hush Heath Estate is near Chapel Down and Biddenden Vineyards, so Sissinghurst Castle Farmhouse makes sense if you want to visit just Hush Heath or all three wineries.
4. Tinwood Estate
Tinwood Estate in West Sussex is another of the best vineyards near London. This winery is a fun trip from the city and an ideal place to escape from the UK capital for a tasting or relaxing getaway.
Located at the foot of the South Downs National Park near Chichester, Tinwood Estate was established in 2007 and is known for its sparkling wines.
Tinwood Estate offers guided tours and tastings, as well as a sparkling afternoon tea. The winery's tasting room is set in a modern building with a glass-covered veranda and outdoor terrace overlooking the vines.
I did a tasting here and I loved the contemporary atmosphere, delicious sparkling wines, and verdant surroundings. I felt like I was in an understated English version of a Napa Valley winery from my home state of California.
Tinwood is another good vineyard to get to by train from London. It's only an 11-minute taxi ride from Chichester railway station.
If you want to make a West Sussex weekend break out of it, you can book a hotel in the area here. Uniquely, Tinwood Estate also has luxurious vineyard lodges you can stay in. You can book one here and stay right next to the vines.
5. Nutbourne Vineyards
Nutbourne is another of the best vineyards near London. Located near Pulborough in West Sussex, this winery has been family-owned and run since 1991.
Not only does Nutbourne Vineyards have great wines, but also a range of other attractions. From an ancient oak sculpture in the vines to a family of alpacas and a viewing platform with panoramas over the South Downs, there's a lot to see here.
Nutbourne welcomes visitors to its winery and cellar door. It offers a self-guided vineyard trail, guided tours, and picnics. I did the vineyard trail and I loved getting out into the English countryside and taking in the vines.
There are also great country walks in West Sussex that will take you past Nutbourne and other vineyards in the area. You can see the route and map for the one I did here.
If you want to turn this into a country break near London, you can book a hotel in West Sussex here. There are great places to stay in the area.
6. Kinsbrook Vineyard Near London
Next on my list of the best vineyards near London is Kinsbrook. This family-owned vineyard and wine producer is located in Thakeham the heart of West Sussex at the foot of the South Downs.
Kinsbrook Vineyard focuses on hand-crafted wines from grapes grown on its third-generation farmland. Its owners are building an inclusive, sustainable lifestyle culture, starting with experience-led tastings at the source.
Kinsbrook has more than just tours, too. The cellar door offers coffee, cake, and antipasti in addition to wine. And that's to say nothing of the farm shop and eatery, supper clubs, events, and live acoustic music every Sunday in the summer.
I happened to visit the winery one Sunday afternoon, and I loved the laid-back atmosphere. The wine, music, and vines all combined to make it a memorable experience.
Conveniently, Kinsbrook is located right near Nutbourne and two other vineyards: Nyetimber and Ambriel Sparkling. You can combine a trip to all four of them and make a weekend trip from London of it. You can book a hotel in West Sussex here.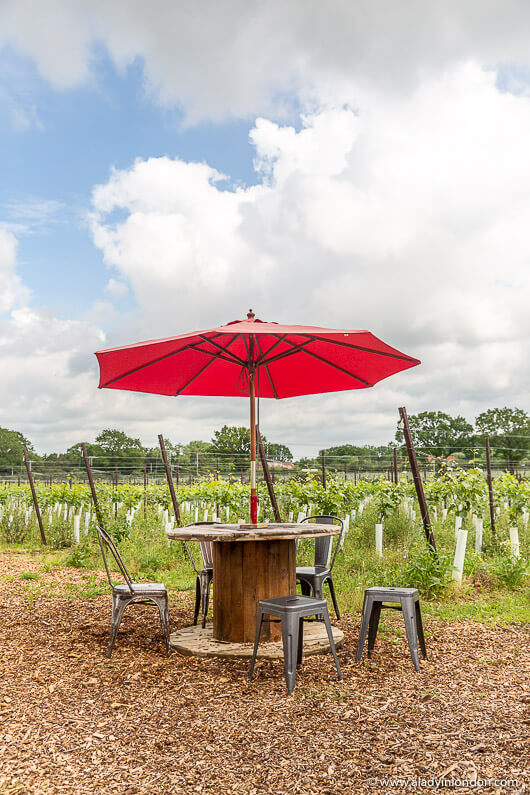 7. Hambledon Vineyard Near London
Out on the South Downs in Hampshire, Hambledon is another of the best vineyards near London. Established in 1952, this family-run winery is the oldest commercial vineyard in the UK. Its mission: create the finest English fizz.
Located in Hambledon village, the cradle of cricket, Hambledon Vineyard offers tours and tastings that take visitors through the winemaking process and into the vines. I did a tour when I visited, and I loved getting to see how the wine was made.
Hambledon also has pop-up restaurants, afternoon tea, and seasonal events. I enjoyed lunch in a converted double-decker bus when I visited, and the food was delicious.
If you want to turn this trip into an overnight getaway to Hampshire, you can book a hotel here. There are lots of great places to stay in the South Downs.
Map of Vineyards Near London
Below is an interactive map of all the vineyards near London I covered in this blog post. If you click on the blue pins, you can find more information about each one. I hope it helps you plan your getaway!
Vineyards Near London
I hope you've liked my list of vineyards near London, and that it's helped you discover new places to travel from the UK capital.
There are more spots to enjoy wine tasting outside London, too. For example, Denbies Wine Estate in Surrey is England's biggest vineyard and one of the largest wine producers in the UK.
Other important names include Ridgeview Wine Estate and Bolney Wine Estate, both of which are in Sussex.
You can even go wine, cider, and beer tasting in Kent. It's the perfect way to discover the area through its famous English drinks.
New vineyards and wineries are popping up all the time, too, so there's always an excuse for another trip. Happy tasting!
New here? Join thousands of others and subscribe to the A Lady in London blog via email or Bloglovin'.
Some of the links in this blog post are affiliate links. At no cost to you, I earn a small commission when you click on them and make a purchase. It doesn't affect the way you shop, and it's a great way to support the A Lady in London blog.
Pin it!