With countless holiday destinations in the UK to choose from, it can be difficult to pick your next getaway. These lesser-known, must-see places make the perfect little break. From secluded beaches, underrated villages, forests and secret spots, this list contains the best hidden gems in UK that are worth travelling off the beaten track for.
Disclaimer: This article may contain affiliate links. If you purchase through these links, I may earn a small commission at no additional cost to yourself.
---
Hidden Gems in England
Perhaps the most iconic English cities are the likes of London, York, Bath and Oxford – cities packed with culture and history. But there are countless other gems to discover outside these established locations.
Minster Lovell in Cotswolds
Where: The quaint and beautiful Cotswolds village of Minster Lovell is found in Witney.
Why: This underrated English village is rarely visited but has some beautiful things to see, especially the ruins of Minster Lovell Hall.
Set next to the picturesque River Windrush, the manor house was built in the 15th century by one of the richest men in England, but has been left in ruins since the 18th century and is currently looked after by English Heritage.
Don't miss: The ruins are especially beautiful in Autumn when they are surrounded by colourful leaves, but regardless of when you visit make sure you try the afternoon tea in the beautiful gardens and meadows of Minster Mill.
Where to stay: Book a cosy Cotswolds cottage with a hot tub or try out one of these well rated Airbnbs.
---
Castleton in Peak District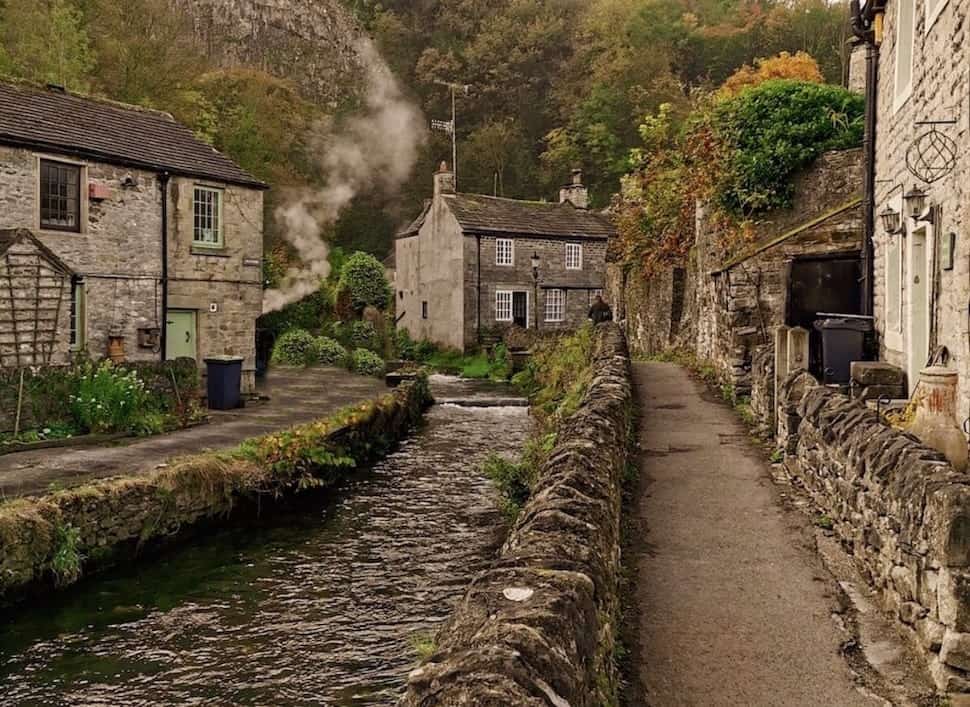 Where: Castleton village in the Peak District is easily reached by train from Sheffield in 30 minutes. Sheffield can be reached from most major cities in the UK, including London in only two hours.
In fact, the Peak District is centrally located, which in turn makes it the most accessible National Park in the UK. It spans 555 square miles and is situated within five counties, Derbyshire, Cheshire, Staffordshire, Yorkshire and Greater Manchester.
Why: Castleton is surrounded by amazing Peak District hikes, such as Mam Tor viewpoint or Winnats Pass. Other popular activities include cycling, rock climbing, paragliding (if the winds are high enough) and caving, as Castleton is home to three of the best show caves and caverns in the UK.
Don't miss: History buffs will love visiting the 11th century ruins of one of England's earliest Norman fortresses, Peveril Castle which lies in the hills above Castleton village.
Where to stay: You can choose an affordable Peak District Airbnb or stay at the beautiful YHA Castleton Losehill Hall, a gothic mansion set on 27 acres of land.
---
Snowshill in Cotswolds
Where: Located just seven minutes drive from the popular Cotswold village of Broadway, Snowshill is a true hidden gem.
Why: If you are looking for unspoilt beauty, then Snowshill ticks the box. Located at the top of a steep hill, the village has incredible views over the Severn Vale as well as rows of pretty cottages that are ever so Instagrammable!
Don't miss: Visit the 16th century Snowshill Manor, owned by the National Trust, and explore the picturesque gardens, and for lunch try the charming Snowshill Arms.
Where to stay: You can stay anywhere in the area and visit Snowshill for a few hours, you can even try glamping in the Cotswolds.
---
Looe in Cornwall
Where: Located just 45 minutes from Plymouth, Looe can be found on the South West Coast Path, so is perfect for those driving or hiking to this seaside town.
Why: This working fishing port, is one of the most scenic in the UK and is famous for its day-caught fish. The town is also home to East Looe beach which is the perfect location for swimming, crabbing along the harbour walls, and exploring the uniquely shaped Banjo pier.
Don't miss: Take a boat trip to Looe Island, once a holy pilgrimage site, but now a wildlife sanctuary. You're bound to see grey seals sunbathing on the rocks, and to observe the local marine life, make sure you take a glass bottom boat.
Where to stay: There are lots of beautiful Airbnbs in Cornwall, or stay at the Shellseekers Guest House which has an incredible quayside view.
---
Turville in Buckinghamshire
Where: Located in the Chiltern Hills close to Henley-on-Thames,
Why: This tiny village is home to only 100 people, and feels like taking a step back in time. Turville has one pub, The Bull & Butcher, one 12th century church (featured in the TV show, The Vicar of Dibley) and an array of 16th century cottages.
Don't miss: Follow the footpath between the church and the green, and climb the steep hill up to Cobstone Windmill (featured in the film, Chitty Chitty Bang Bang), here you will experience a beautiful view over Turville and the Chilterns.
Where to stay: One of the cutest places to stay in Turville is The Cart Shed, a one bedroom home with exceptional reviews.
---
Knaresborough in Yorkshire
Where: Knaresborough is a beautiful small town in the north of Yorkshire. It is the perfect day trip from Leeds, as it is a 35 minute drive or a 45 minute train ride. If you travel from London, the best way to get to Knaresborough is by taking a 2.5 hr train to Leeds.
Why: This destination is perfect for those who love visiting small but charming places. Knaresborough is home to picturesque cobblestone streets, lovely tea rooms and attractions such as Knaresborough Castle.
It is also an excellent place to visit with children as there are a good variety of activities – from hiring a rowing boat in the River Nidd to visiting Mother Shipton's Cave (one of the oldest attractions in England). The latter is one of the best things to do in Knaresborough for adults too.
Knaresborough is not very big. Therefore, visiting another nearby town, such as Harrogate, home to the famous Bettys Café Tea Rooms, which serves delicious afternoon tea and sweet treats, and impressive Turkish Baths, is a good idea.
Don't miss: When it comes to food, Knaresborough has some great traditional British pubs that offer Sunday Roasts with Yorkshire puddings included. Enjoy comfort food at The Guy Fawkes Arms.
Where to stay: The Knaresborough Inn is a fantastic location for a lovely stay in Knaresborough, offering comfortable rooms and a delicious breakfast.
Submitted by Cristina of My Little World of Travelling
---
Holkham in Norfolk
Where: The quaint village of Holkham is located in North Norfolk about two miles from the seaside town of Wells-Next-the-Sea. The closest train station is at Sheringham almost 20 miles away, so it's best to drive. Alternatively it is on the 36 Coastliner bus route that runs from King's Lynn to Fakenham.
Why: Holkham is home to one of the best beaches in Norfolk and the stately home, Holkham Hall located in Holkham Park.
The vast sandy beach, part of the Holkham National Nature Reserve, is a haven for wildlife enthusiasts and those who appreciate natural beauty. A short walk away from the beach, The Lookout visitor centre has a cafe and toilets.
The main attraction at Holkham Park is Holkham Hall, a Palladian-style building home to the Earl of Leicester and his family. It is open for tours on select days. There is also the Walled Garden, lake, kid's playground, other historic buildings, and much more.
Don't miss: Holkham Hall hosts several exciting events throughout the year including outdoor movies, food festivals, park runs and races, and workshops. Their Christmas market is especially popular.
Where to stay: Set in the heart of Holkham village, the Victoria Inn is a charming and luxurious accommodation option. Its prime location means that it is within walking distance of Holkham Beach, Holkham Park, and Holkham Hall. The Victoria Inn boasts 20 well-appointed rooms, including family suites, spread across two buildings. Pet owners will be pleased to know that dogs are welcome to stay in any of the 10 rooms located in the main building. The on-site restaurant prides itself on using locally-sourced produce in their menu and can accommodate any dietary requirements.
Submitted by Anisa from Norfolk Local Guide
---
Hackfall Woods in North Yorkshire
Where: Hackfall Woods near Ripon in North Yorkshire. The car park is located at HG4 3BS. Alternatively, bus 825 goes directly to Hackfall via local attractions including Ripley Castle, Brimham Rocks, and Fountains Abbey.
Why: Hackfall Woods is a magical place to visit, with its lush greenery and tranquil atmosphere. This ancient woodland has been designated as Site of Special Scientific Interest and is home to many rare species of wildlife.
Not only does Hackfall Woods offer stunning scenery; it also has historical significance as the area was originally landscaped by William Aislabie during the 1700s. He was the son of the renowned John Aislabie who was responsible for landscaping the nearby Studley Royal and Fountains Abbey.
Visitors can enjoy a gentle woodland stroll or spend their time seeking the charming hidden follies – either way you will be sure to find something unique and interesting during your visit to Hackfall Woods!
Don't miss: Be sure to activate the fountain in the pond. It was originally created in 1756 and to activate it, manually power the hand pump at the edge of the pond. It takes some strength, but eventually a tower of water shoots over 30 metres into the air.
Where to stay: If you really want a memorable trip, you can stay in Hackfall Woods. The Ruin is a building which has been converted into a holiday home. It is perched overlooking the woods so you can enjoy the spectacular views across one of the best hidden places in England!
Submitted by Hannah Ackroyd from Get Lost Travel Blog
---
Woolacombe in North Devon
Where: This peaceful village is located in North Devon about an hour from Exmoor National Park, and is best reached by car as there is no train station nearby. There is however public transport, but it is not frequent, especially out of season.
Why: Woolacombe is known for its wonderful, large, sandy beach, which is one of the most beautiful in the county. It is also a great place to enjoy nature and watersports such as surfing. Hiking is also popular in the area, especially the Woolacombe to Ilfracombe hike, which follows the coastline, and, allows you the chance to spot sea lions and dolphins.
Don't miss: There are a few restaurants in Woolacombe which serve dishes made with local fish. One of them is The Tides In, which also has a lovely terrace overlooking the beach.
Where to stay: The Woolacombe Bay Holiday Park is located on a hill above the village, and has wonderful views from their decked terrace, especially at sunset.
Submitted by Joanna from The World in my Pocket
---
Nanjizal Beach in Cornwall
There's no doubt that hopping around beautiful beaches is one of the best things to do in Cornwall, but many of these, including Fistral Beach and Kynance Cove, can be rammed – especially in the summer months!
To find Cornwall's best beaches, head off the beaten path, to those that require a bit of a hike to reach, like Nanjizal Beach in West Cornwall.
Where: Nanjizal Beach sits in West Cornwall, just a 45 minute walk from the Land's End landmark attraction. As it doesn't have road access, it rarely gets busy!
There is no parking near Nanjizal Beach, so instead, you'll need to leave your car at either Land's End or Porthgwarra (which is a Poldark filming location!). From either beach, walk along the South West Coast Path to reach Nanjizal.
Why: With bright blue waves lapping the white sands, and with a craggy outcrop that's perfect for photography, Nanjizal Beach is by no means a vast stretch of sand – instead, it's a tiny cove. However, the sandy beach offers a vast range of boulders and caves to explore.
Don't miss: From the cliff tops above Nanjizal, you'll take in spectacular views over the Atlantic Ocean, and even have the chance to see seals either in the water or basking on the rocks.
Where to stay: There's no accommodation at Nanjizal Beach, but The Land's End Hotel is nearby in Land's End.
Submitted by Claire from Go South West England
---
Horsey Beach in Norfolk
Where: Horsey in Norfolk is where the low lying Norfolk Broads meet the North Sea. This small hamlet just north of Great Yarmouth is one of Norfolk's hidden gems and has a lot to offer visitors.
Why: Summer visitors love the expanse of soft sand, and the quiet nature of the beach. The sand and shingle beach is perfect for beach games and sandcastle building, and the dunes offer respite from the wind and a peaceful place to spend the afternoon enjoying a good book.
In winter, visitors come to see seal pups being born on the beach. All along this stretch of coast, the UK's largest Atlantic seal colony can be spotted swimming and hauled up on the beaches, but Horsey is the best place to see the seal pubs. The beach is cordoned off and local volunteers provide support and information to people coming to view the spectacle.
Don't miss: Just inland is the incredibly photogenic Horsey Mill, an iconic Norfolk landmark. Guarding over Horsey Mere, a climb to the top of the mill reveals panoramic views of the surrounding countryside and Broadland landscape. Follow this exertion with a well earned cuppa and sliced homemade cake in the cafe.
Where to stay: Stay at nearby thatched Ingham Swan, an award winning restaurant with rooms, which are beautifully styled. The restaurant focuses on ingredients from local farmers and growers, showcasing the best of Norfolk produce.
Submitted by Izzy from Norfolk Travel Guide
---
Best Hidden Gems in Wales
Wales is much more than the rolling mountains of Snowdonia National Park or the friendly city of Cardiff, so check out these off the beaten track destinations that will allow you to get away from the crowds.
Cardigan in Ceredigion
Where: Cardigan in West Wales is the gateway to the Teifi Valley and the Ceredigion and Pembrokeshire Coastal Paths. There is limited public transport in this area so it's best to visit by car, van, or motorhome.
Why: Whilst most people visiting West Wales will choose Tenby, Pembroke, or St David's, the town of Cardigan is a hidden gem, just travel a little further up the coastline.
Some of the top things to do in Cardigan include visiting Cilgerran Castle, taking heritage canoes down the Teifi River, visiting a pristine Blue Flag beach at Poppit Sands, and family-friendly walking trails at the Welsh Wildlife Centre.
Don't miss: Cardigan Bay is home to the largest population of bottlenose dolphins in Europe. You can occasionally see them from the shoreline, but for a near-guaranteed sighting, head out on a dolphin spotting tour with A Bay To Remember where you'll explore nearby coastlines to spot dolphins, seals, seabirds, and more. April to November is the best time to do this.
Where to stay: For those on a budget, there are several guesthouses in the city centre, but if you fancy something a little more classy, just outside of Cardigan, you'll find The Gwbert Hotel and The Cliff Hotel & Spa, two luxury properties at a fraction of the price you'd pay in more popular areas of West Wales. Families might also consider the caravans and holiday cottages at Cardigan Bay Holiday Park.
Submitted by Kieren from Wales Guidebook
---
Gower Peninsula in Swansea
Where: The Gower Peninsular in South Wales, also known as the Welsh Gŵyr is a stunning area found in Swansea. It is 19 miles long and offers visitors with some truly incredible sights.
Why: Gower Peninsula has plenty of secret spots and stunning beaches such as Langlan Bay that are just waiting to be explored. Not only can visitors take in the fresh sea air, but they can also explore some remarkable castles too!
Don't miss: A must-visit spot is Worms Head. This rocky and rugged headland can be reached on foot at low tide, making it a great spot for a leisurely stroll or a more adventurous rock pool expedition!
Where to stay: If you're in need of somewhere comfortable to stay, The Old Byre in Rhossili is a great option. This cosy cottage offers modern amenities as well as being close to some amazing attractions and breathtaking views.
Submitted by Lowri from Many Other Roads
---
Pontcysyllte Aqueduct in Wrexham
Where: Located in Trevor, Wrexham, visiting the area is easy by car or by train, with the drive from Manchester or Liverpool taking around an hour. The nearest train stations are at Chirk and Ruabon, where it's a short walk or taxi ride to the aqueduct.
Why: Pontcysyllte Aqueduct is a fascinating Victorian aqueduct soaring more than 100 feet above the picturesque River Dee, in North Wales. The aqueduct and the surrounding Llangollen canal area is recognised as a UNESCO World Heritage site and it's easy to see why.
The vast aqueduct is both the highest aqueduct in the world and the longest in the UK – more than 200 years after it was built! It's the masterpiece of the renowned Victorian engineer Thomas Telford, who also built the world's first iron bridge – at Iron Bridge Gorge in Telford.
Don't miss: The best thing to do in the area is to take a narrowboat cruise along the canal and over the aqueduct, although you can also kayak across if you're brave enough. The whole area is stunning to cycle or walk around, making it the perfect day out for all ages, especially if you also have the chance to explore the magnificent Chirk Castle.
Where to stay: The charming town of Llangollen is a great choice or you could opt for Moreton Park Hotel in Chirk.
Submitted by Coralie Thornton from Grey Globetrotters
---
Scotland Hidden Gems in UK to Visit
Scotland has plenty to offer all kinds of travellers, but our insiders tell us about some of the non-touristy places they loved most when visiting the land of bagpipes, castles and Whisky.
Isle of Mull, Inner Hebrides
Where: The Isle of Mull is the second-largest island in the Inner Hebrides on the West Coast of Scotland.
There are three ferry routes from the mainland: Oban – Craignure, Lochaline – Fishnish, and Kilchoan – Tobermory. The easiest route is from Oban – Craignure, but Tobermory is the island's capital so the ferry from Kilchoan is best if you don't drive.
Why: Mull is a microcosm of the Scottish Highlands, with its beautiful lochs, woodlands and solitary Munro, Ben More, making it perfect for outdoor enthusiasts, hikers, and wildlife lovers.
Some of the top things to do on the Isle of Mull include exploring the colourful port town of Tobermory, the coastal walk to Rub nan Gall Lighthouse, sampling the offerings at Tobermory distillery, and beach-hopping around the island.
Mull is also a great jumping-off point for touring the nearby Treshnish Isles and Staffa where puffins and the legendary Fingal's Cave await.
Don't miss: Isle of Mull Cheese, one of the last remaining traditional cheese producers in the Hebrides. There you'll find a farm shop and restaurant with a living vine growing inside. It was rated by Condé Nast Traveller as one of the most beautiful restaurants in all of Scotland.
Where to stay: Stay at Harbour View B&B, just a few minutes walk from Tobermory Ferry Station. This cosy, family-run bed and breakfast does the most delicious breakfast. Western Isles Hotel, perched on the hill above Tobermory, is another great option – and it's dog-friendly!
Submitted by Francesca from Little Lost Travel
---
Orkney Islands
Where: Orkney, an archipelago of islands off the northern coast of Scotland, is an incredible off-the-beaten-path destination.
Flights to the main airport is Kirkwall are available with Loganair from a few cities in Scotland. The more popular option is to take the ferry – either NorthLink Ferries from Scrabster to Stromness or Aberdeen to Kirkwall, or Pentland Ferries from Gills Bay to St. Margaret's Hope. There is also a seasonal foot-passenger ferry that runs from John O'Groats to Burwick in the summer months.
Why: Orkney is a spectacular destination for history, the outdoors, and wildlife. Step back in time and experience Neolithic history at Skara Brae, the Ring of Brodgar, the Standing Stones of Stenness, Maeshowe, and the Knap of Howar.
Spot seabirds, including puffins at Noup Head on Westray or Marwick Head on the Mainland. Hike stunning coastal paths, walk along a tidal causeway to the Brough of Birsay, and marvel at the Old Man of Hoy, the highest sea stack in Europe.
Don't miss: The opportunity to take the shortest commercial flight in the world, the Loganair service between Papa Westray and Westray. The flight typically takes about 90 seconds, although with good wind some pilots can do it in just under 60 seconds. Pick up your certificate at Kirkwall Airport after!
Where to stay: Outdoors lovers and camping enthusiasts shouldn't miss spending a night at Burnmouth bothy, located at Rackwick Bay on the island of Hoy. There are no facilities here besides a stove for warmth; bring everything, including sleeping gear, with you. As with all bothies, there is no charge – but follow the bothy code.
Submitted by Maja Proescholdt from Away With Maja
---
Plockton in the Highlands
Where: Plockton is nestled on the shore of Loch Carron in the remote Lochalsh district of the Scottish Highlands. It takes around a 2.5-hour direct train ride from Inverness to reach Plockton.
Why: Often referred to as the "Jewel of the Highlands", Plockton offers something for all travellers. From wildlife boat tours to nature walk at a secluded coral beach – there are plenty of fantastic things to do in Plockton.
The village is famous for its breathtaking scenery and landscapes. Walking is the best way to explore the hidden corners of Plockton. The streets are very scenic, with whitewashed houses and beautifully well-maintained gardens right by the lake. Wildlife enthusiasts can take a boat tour to discover the rich marine life of this area. Seals, otters, seabirds, dolphins and porpoises are frequently seen here.
Don't miss: The iconic Eilean Donan Castle is only a 20-minute drive from Plockton. Sitting on a small tidal island at the meeting point of three sea lochs, this is one of the most photographed castles in Scotland. While in Plockton, the nearby Isle of Skye is a must-visit and is only 15-20 minutes drive away.
Where to stay: A great place to stay in the village is Plockton Inn. It has a relaxed and friendly atmosphere, cosy rooms and a seafood restaurant serving freshly caught seafood.
Submitted by Moumita from Chasing the Long Road
---
Isle of Harris, Outer Hebrides
Where: The Isle of Harris is in the Outer Hebrides, a group of islands north of mainland Scotland. There are two ways of getting here – by ferry or by plane.
From Uig on the Isle of Skye the ferry goes to Tarbert on the Isle of Harris. It is also possible to get a ferry or flight to Stornoway on the Isle of Lewis, which is an hour drive from the Isle of Harris.
Why: The scenery and beaches are stunning. When the sun comes out it looks like you are in the Caribbean with white sandy beaches and turquoise waters. If you like walking, the views from the top of Beinn Dhubh and Ceapabhal are also worth the climb. This makes the island a good place to visit for couples and families who like the outdoors.
Part of the attraction is the remoteness and how few people visit the island. This is a real Scottish hidden gem where you can experience scenic walks all on your own.
Don't miss: The beautiful beaches on this island such as Luskentyre and Seilebost beach. They are right next to each other and at low tide it is possible to walk for over two miles across the white sand from one beach to the other.
Where to stay: Braemore Chalet is perfect for couples looking for a romantic break. Another good option for shorter stays is One Sea.
Submitted by Kristin from Scotland Less Explored
---
Hidden Gems in Northern Ireland
Known for the iconic Causeway Coast and the birth place of the Titanic, Northern Ireland has plenty of reasons to visit, but also remains one of the most overlooked destinations in the UK.
Kinbane Castle Ruins in County Antrim
Where: Set on a craggy limestone headland in Northern Ireland, the ruins of Kinbane Castle are definitely a hidden gem to visit in the UK. Kinbane Castle is one of the best things to see on the Causeway Coast in Northern Ireland. The castle ruins are located on the coast between Ballycastle and Ballintoy in County Antrim. You can get there by car, and then you have to walk down about 140 steps to a rocky beach, the castle ruins, and the headland the castle is perched upon.
Why: Kinbane Castle is a great historic site to visit. The castle was originally built by Colla MacDonnell in 1547, but was largely destroyed by the English later that century. Today, only parts of a guard tower are still standing. But the ruins are located in such an epic spot, with coastal views that you'll want to see.
Don't miss: The views back toward the mainland are especially incredible from beyond the castle ruins, so make sure to allow yourself enough time to fully explore the headland.
Where to stay: The closest large town to Kinbane Castle is Ballycastle, where the Glass Island B&B is a great place to stay. In the other direction, the Whitepark House in Ballintoy is also a good option.
Submitted by Amanda from A Dangerous Business Travel Blog
---
Save UK Hidden Gems to Visit to Pinterest for Later