Are you planning a road trip around the beautiful English county of Cornwall? Use our Cornwall road trip itinerary with destination information, travel tips and more to help plan your own perfect trip
There is so much to see and do in Cornwall it really is essential to plan your Cornwall road trip itinerary carefully if you want to include your 'must-see' places.
Booking tickets, checking tides and making reservations at accommodation plus taking into consideration travel times, where to park and what to pack are just some of the considerations when planning a Cornwall road trip.
This article is a summary of our Cornwall road trip itinerary from summer 2022 (with around 16 hours of daylight*) As you follow through with our itinerary you will notice that we have added a couple of options to help you choose your own must-see places.
We have also included an approx idea of the time and distance between places we drove to and also a link to the Automobile Association map of the drive with an approximate time to allow for your journey. (Times do not include additional times for stopping off along the route)
*During winter months travel daylight hours are reduced to approximately 8 hours.
Note – We actually started and ended our road trip around Cornwall in the neighbouring county of Devon as Doug wanted to ride on the Dartmoor train line from Crediton to Okehampton. This line reopened after being closed for 50 years. Also on our penultimate day, we returned again to South Devon to ride on the Dartmouth Steam Railway.
Prefer to avoid driving as much as possible (or even at all) in Cornwall why not book a private driver-guided tour for one day, two days or more with Meneage Tours? Our preferred partners Meneage Tours offer a wide range of tours and can organise a bespoke tour with you to make the most of your time in Cornwall. Click here for more information!
Clovelly to Tintagel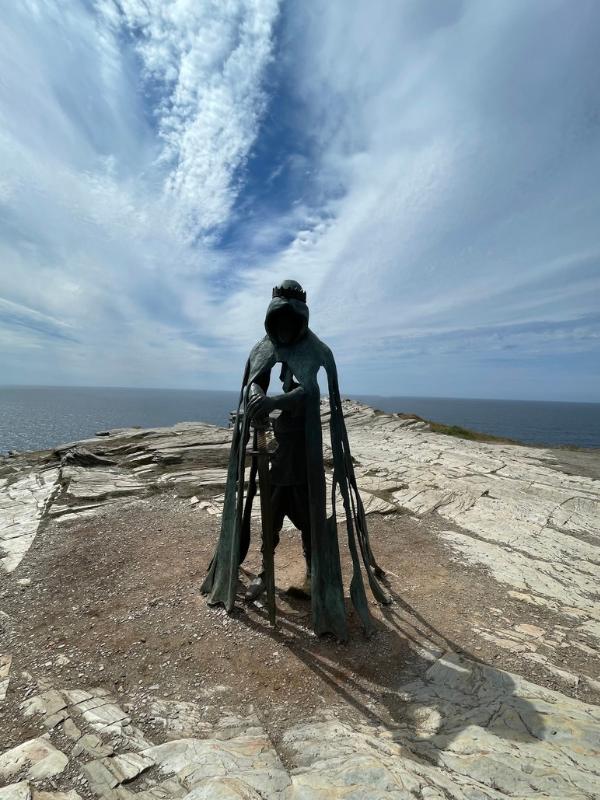 Drive to Tintagel via the A39 road
This is a leisurely drive along the coastline into Cornwall.
If you wish you can stop off at Boscastle, a beautiful village reached by turning onto the B3263 road at Trengune (well sign-posted) and visit the museum of witchcraft and magic.
In Tintagel park at one of several pay and display car parks.
Visitor Information and Top Things to do in Tintagel
Pay and display car parks, not all take bank cards, the one we parked at took £1 coins.
The car parks were very busy when we visited but we found by driving through the village we found a quieter car park.
Visit Tintagel Castle and Merlin's Cave, both associated with the legendary King Arthur.

Merlin's Cave and the nearby headland can be accessed for free.
Visit the King Arthur statue, accessible over the footbridge and at the headland.

NOTE: The walk down the hill is a bit steep in places so wear good footwear.
Refreshments/toilets are at the bottom of the hill.
A transport service offers a ride back up the hill at a cost.
Marazion to Mousehole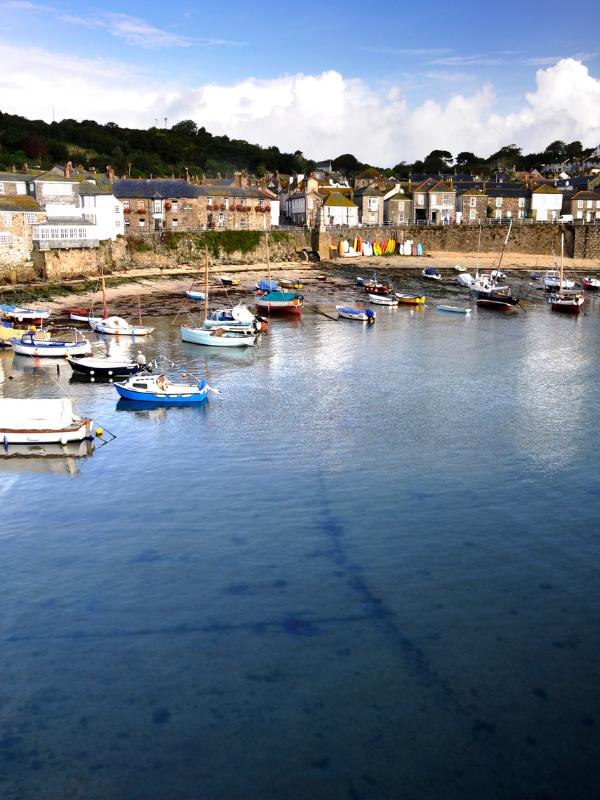 Drive to Mousehole from Marazion- stay off for a look around or drive through,
20 mins via A30 and B3315
Visitor Information and top things to do in Mousehole (pronounced Mowzel).
A beautiful, picturesque fishing village around 4 km (2.5miles) from Penzance on the shore of Mounts Bay, Cornwall that dates back to the 13th Century.
Enjoy the narrow streets, the harbour walls and the beautiful fishing village cottages. Take care, some of the streets are steep to walk!
Rich literary past, termed, "the loveliest village in England" by the Welsh poet Dylan Thomas.
See the harbour and take a boat cruise trip or visit the famous Ship inn for lunch, often visited by Dylan Thomas.
A vast array of cafes and shops are available, and a must to try is the Cornish 'Stargazy pie' made from herrings or pilchards (sardines), eggs and potatoes under shortcrust pastry.
Local walks exploring the local coves and pathways are a popular visitor past time, including the walk to Newlyn and Penlee.
Parking is not easy in this popular village, and with the one way traffic system and narrow streets, particularly in Spring and Summer this area can be very very busy.

We passed through quite quickly as we were unable to find a parking space.

Parking is available in Quay street and the harbour walls.
Mousehole to Porthcurno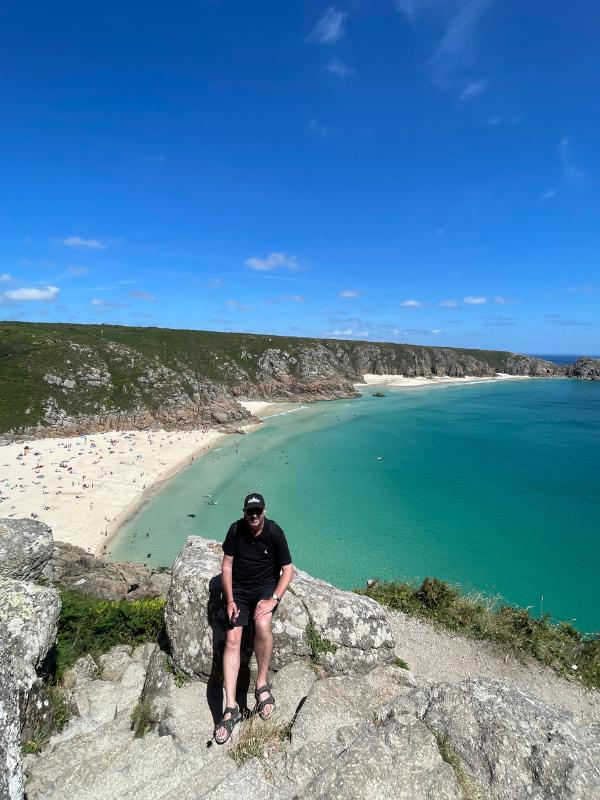 Drive to and explore Porthcurno and Porthcurno beach from Mousehole. This drive took about 45 mins because of the traffic congestion and narrow roads on the approach to Porthcurno.
Visitor Information and Top Things to do in and around Porthcurno and Porthcurno beach.
Beautiful scenic and greatly photographed far South West Cornish coastal village and beach.
Famous for golden sandy family beach and blue waters.
Easily reachable along a sandy path 250 yards from a pay-and-display car park.
Overlooked by granite cliffs on both sides of the beach, including on the west side the famous open-air Minack Theatre.
Minack Theatre is carved into the granite cliffs and set in beautiful gardens that overlook the Porthcurno Bay.
Allo plenty of time for this drive, because of the narrow roads and the traffic congestion to Porthcurno and the Minack Theatre (there was a show on that afternoon), the journey took about 45 mins to drive and then we had to wait for a car parking space too.
Nearby are multiple beaches and coves including the Logan Rock and the 16th Century pub The Logan Rock Inn.
Minack Theatre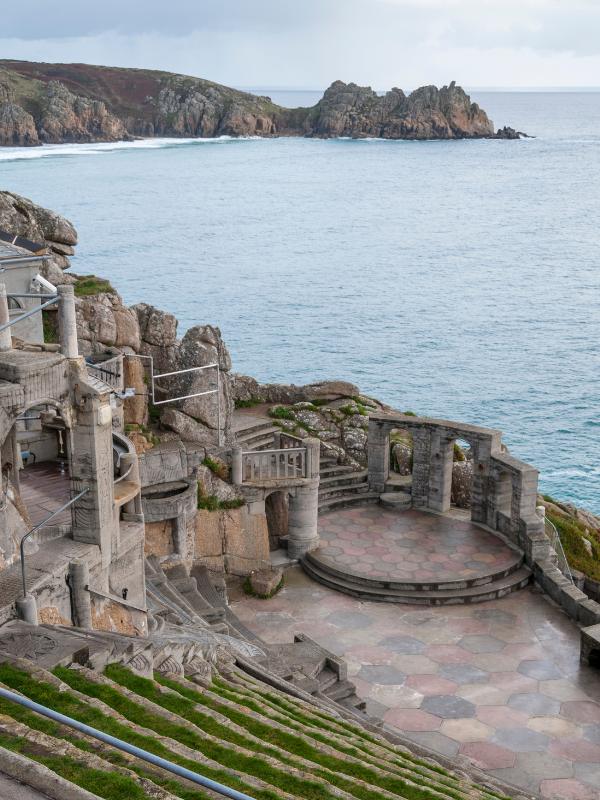 Drive to and visit (if showing) a performance at the Minack Theatre
4 mins via signposted route
Minack Theatre to Land's End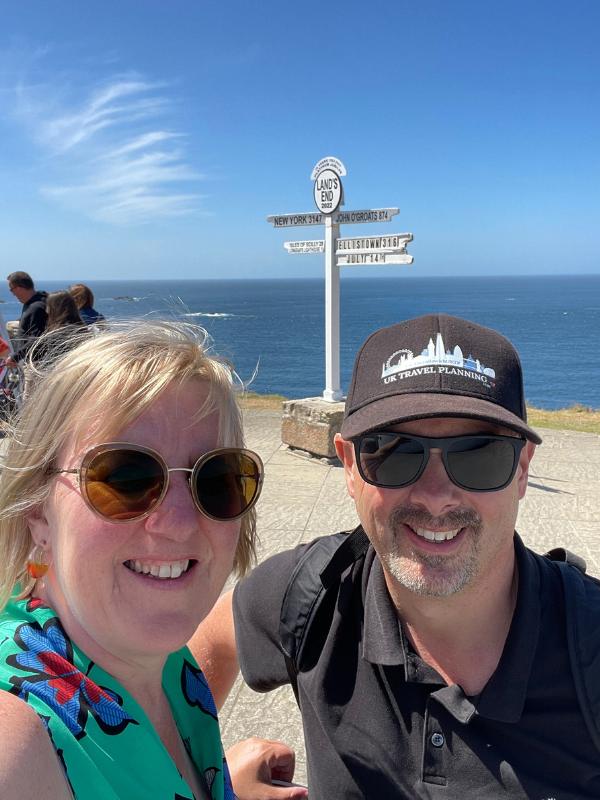 Drive to Lands End and visitor centre. A short drive, a large amount of parking is available with payment at a kiosk on the entry to the large car park. Entry to the visitor centre is free.
Visitor Information and Top Things to do at the Lands End visitor Centre.
Land's End is the westerly headland in Cornwall and a popular location for visitors to have their photo taken at the signpost showing the distances to global locations. Visitors can pay to have professional photos taken with their home location on the signpost.
Also popular with visitors planning to also visit the most Northerly point of mainland Great Britain at John O Groats in Scotland.
Visitor attractions at the centre include cafes and kiosks for food and drink including the First & Last Inn, a 17th Century smugglers bar but now a great place with excellent food and real Ales.
Other attractions include the Experience Ticket, Aardman presents, A Grand Experience as well as an array of gift shops.
Option B – Drive to St Ives via coast road B3306 and stop off at the Geevor Tin mine and the Levant Mine and Beam Engine at Pendeen near St Just].
51 mins via B3306- Plus additional time to explore if chosen (we did not have time on this visit but will definitely visit on our next road trip around Cornwall)
Levant Mine and Beam Engine (National Trust)
Open all year round.
Appears in the BBC series Poldark, doubling up as Tessiders Rolling Mill.
The only Cornish Beam Engine (in the original location) that is still working.
Steam engine is dated from around the 1840's.
OpeningTimes- Monday and Wednesdays ONLY.

Open 1030 until 3pm
Tour only. Takes around 1 hour.
Cost £11 (2023) for non National Trust members.

Site of a mining disaster in 1919.
Geevor Tin Mine (Privately owned)
Open all year round
Only a 10 minute walk along the coastal path from the Levant Mine and Beam Engine.
OpeningTimes- Sundays to Thursdays ONLY.

Open 9 am until 4 pm
Tour only. Takes around 1 hour.
Visitors usually spend around 2 hours visiting.
Cost £17.70 (2023)

Refreshments on site – Count House Cafe
St Ives to Bodmin Moor
For visitor information and top things to do in St Ives see Day 4
Drive from St Ives to Bodmin Moor
Shepherds Hut. Blackthorn Cottage PL30 4NS
Train Ride to Looe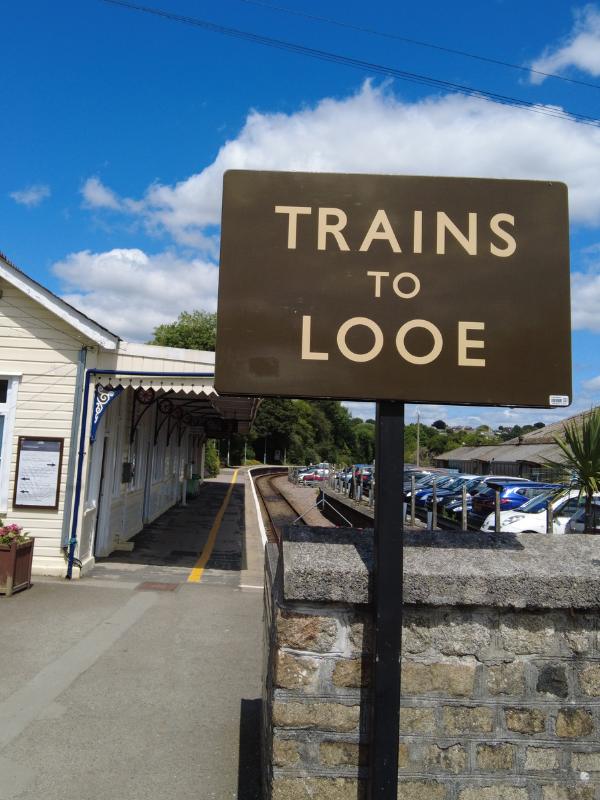 Drive to Liskeard train station to catch the train for the short train ride to Looe. Really easy to park the car at the train station which was a pay/display car park. Paid with a card, really easy with no problems.
NOTE: There are 2 parts to the train station, one for the main train line and a separate part for the Looe Valley branch line to Looe.
Visitor Information and top things to do in Looe
Liskeard to Looe by train.

Approx 30mins, direct service, approx cost £10 for an adult return ticket.
We checked the time of the return train to make sure we could get back easily.

Looe – A popular Victorian destination of Looe with a rich fishing heritage providing the usual array of seaside town shops, restaurants, amusements and individual boutique shops.
A town of two halves separated by a bridge over the tidal River Looe. We explored the harbour area and the famous Banjo peer during our time here and of course had an ice cream and sat and enjoyed the afternoon relaxed beach atmosphere and luckily on this day, a hot sunny summer's day.
Liskeard to Jamaica Inn (Bodmin Moor)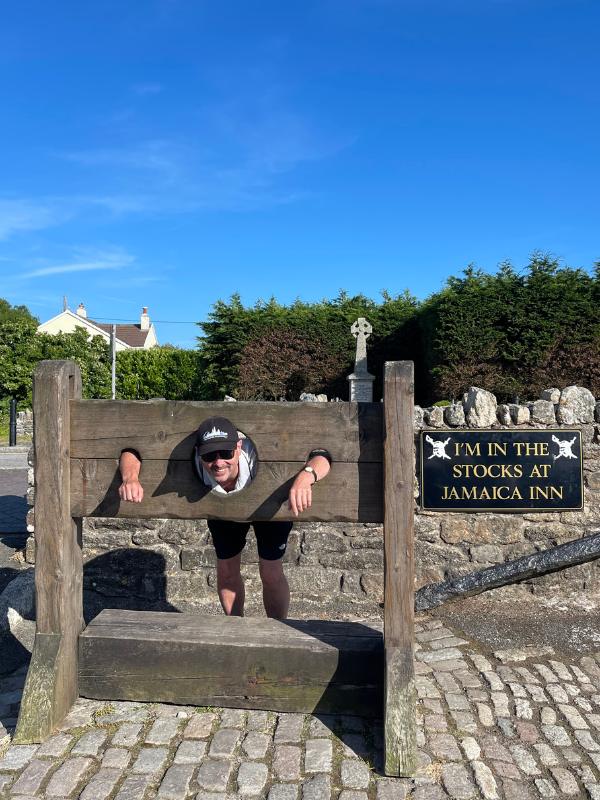 Drive from Liskeard train station to Jamaica Inn and Museum on Bodmin Moor via the B3254 road.
(Jamaica Inn made famous from the 1936 book by Daphne Du Maurier, the Inn dates back to 1750 when it was a coaching Inn) – We had dinner and drink here too.
Drive from Jamaica Inn to Shepherds Hut (Blackthorn Cottage PL30 4NS on Bodmin Moor) a tranquil, beautiful scenic road, be careful of the wild ponies and the sheep, both may be on the road and as we found just around a bend in the road, so take it slowly!
Day 4 – Bodmin Moor – St Ives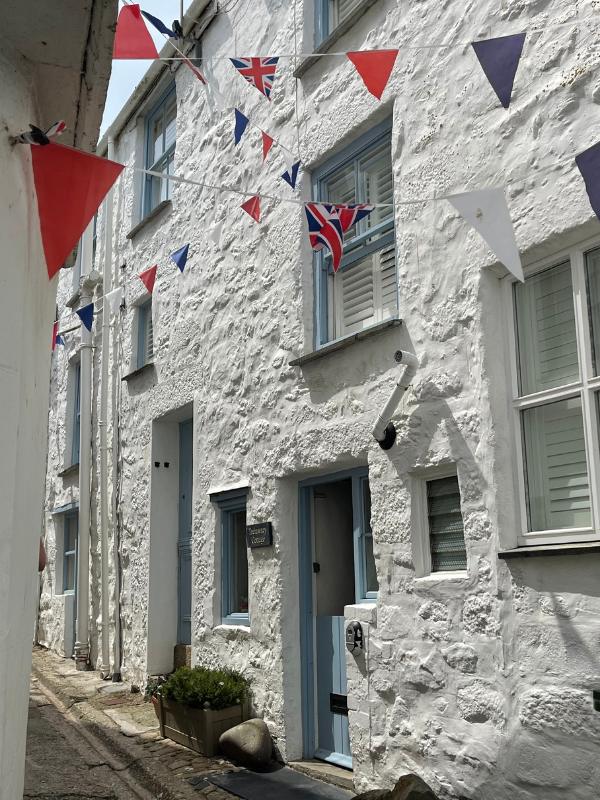 Start – Bodmin Moor
Visited – St Ives
End – Bodmin Moor
St Ives – We decided on this day to visit St Ives to spend longer there after only passing through on Day 2 and being train lovers, made a last minute decision to take the train from St Austell instead of driving. Also part of this consideration was that we might encounter difficulty in parking the car at this very popular seaside town.
Included below are the two route options, one to reflect a to St Ives and the second is the train option from St Austell. We had not booked any train tickets or reserved any seats in advance but this presented no issues at all as St Austell is a staffed train station.
NOTE:
If following our itinerary, if you choose Option 2 you will have to allocate sufficient time in your plans to find car parking in St Ives or as a further alternative park the car at St Erth and catch the train for the short train ride to St Ives.
Option – 1 St Austell to St Ives by train.
Drive to St Austell train station and park the car (pay and display, pay with card at the ticket machine). Paid parking for the day.
36 mins via A30 and A391 roads
Approx 1 hr 15 mins train journey, with one train change at St Erth, approx cost £12 for an adult return ticket.
We made sure to check the time of the return train to make sure we could get back easily.
Carbis Bay
On the return we also stopped off the train at /Carbis bay for a look around, this has a very steep down to the bay from the train station and an even steeper climb back up!
The return journey was straightforward and relaxing.
Option – 2 Do not catch the train but drive to St Ives from the Shepherds Hut
Drive from Bodmin Moor to St Ives.
NOTE – Return drive to the Shepherds hut with a stop at the beautiful Carbis Bay.
Time and distance as above but remember to allow time to explore the Carbis Bay area, stop off at the popular Carbis Bay hotel for a meal or afternoon tea.
Visitor Information and things to do in St Ives
Tate, St Ives
Barbara Hepworth Museum and Sculpture Garden.
In St Ives, we had some of the very best fish we have ever tasted at the Harbour Fish and Chip shop.
Porthmeor Beach.
Carbis Bay beach.
Boat trip to seal island
Read more – Things to do in St Ives
Dartmouth Steam Railway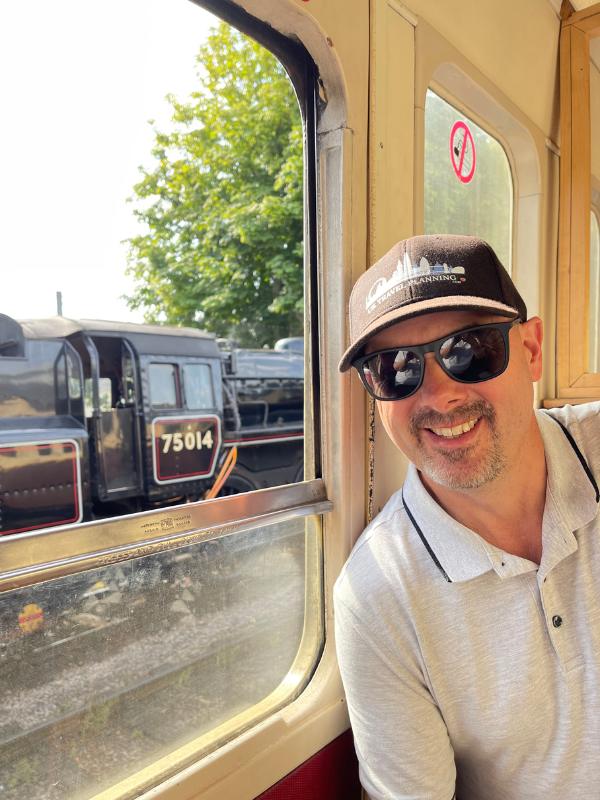 The Dartmouth Steam Railway and River Boat Company is based in the South of the county of Devon, the neighbouring county to Cornwall, and is an incredibly popular attraction that includes steam trains with a coastal view, a boat trip on the River Dart and also a lovely paddle Steamer.
We caught the early train at 10 am from Paignton train station, the Steam Railway station next to the national rail station.
Multiple tickets are on offer but we chose the 'steam train' option which included the train to and from Kingswear and also the ferry to and from Dartmouth.
Unfortunately on our day of travel, the weather was very hot, dry and sunny so for safety reasons the steam train locomotive was replaced with a diesel locomotive. Still an incredible experience.
Dartmouth – From here the Pilgrim Fathers departed for the new world in 1620.
For more information click here
Dartmouth to Bodmin Moor
Return drive to Bodmin Moor Shepherds Hut (Blackthorn Cottage PL30 4NS) as per reversed earlier journey or consider a return via a different route.
We took a longer route through the Dartmoor National Park (still in Devon) back to the Shepherds hut.
Day 7 – Bodmin Moor – Exeter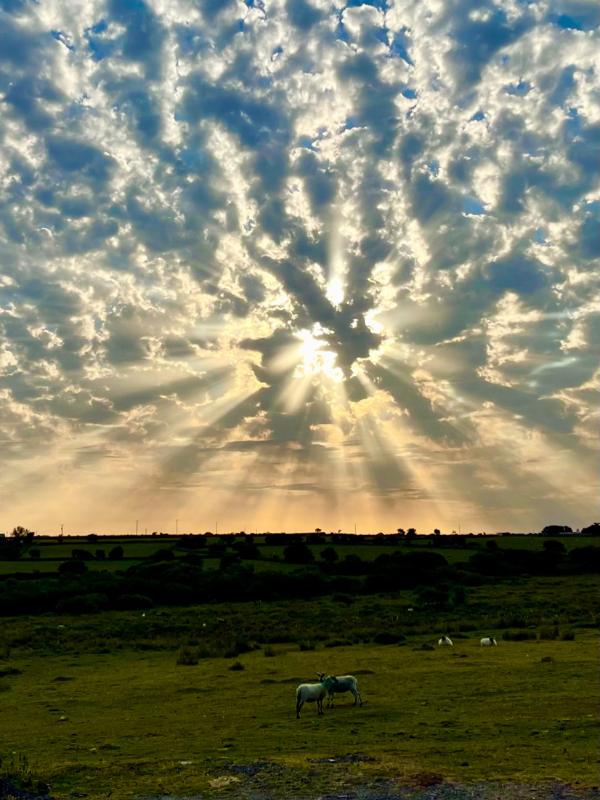 Start – Bodmin Moor
End – Exeter
Drive from the Shepherds hut to Exeter in Devon to return the hire car. We allowed plenty of time for this, not forgetting to fill the car up with petrol before returning the car.
Tips & lessons learned during our 7 day Cornwall road trip itinerary
Although we planned each and every day of this itinerary thoroughly we still had to make adjustments along the way.
A few tips to consider based on our trip
Allow plenty of time to park.
Carry change for parking meters (though not all accept cash)
Roads can be narrow, single file, and livestock on the roads so be careful!
Book meals even at pubs especially for evenings and weekends.
Although we had planned dropped to drop off our hire car at Exeter St Davids we had a change of plan and continued to Newbury for the next stage of our journey a visit to Highclere Castle (Downton Abbey) Read more about visiting Highclere!