A makeup line created by the makeup artist behind the incredible looks served on hit show Euphoria was always going to attract hype. Why? The show is known for bringing brightly coloured eyeliner and stick-on face gems into the mainstream, and Half Magic provides everything you need to recreate iconic looks from the show, as well as experiment with your own – by way of multitasking pigments, eye decals, and an innovative eyeliner tool.
Half Magic is not your average celebrity beauty brand – the founder herself, makeup artist Donni Davy, is known for her creative and experimental approach to beauty and she approached the formation of her own brand with the same freedom of creativity. "Our formulas and tools are really meant to inspire creativity and be super user-friendly, however our formulas are very high-end and are designed to last and layer at a professional level," she tells me. "Our colour lineups are tightly curated and far from ordinary, but we're all about accessibility. I'm always trying to channel elevated formulas with inspiring colour lineups and extreme ease of use while keeping the products at a friendly price-point."
To celebrate that the brand is now (finally!) available in the U.K., we sat down with Davy to learn more about her career as a makeup artist and her experience in bringing the iconic Euphoria makeup looks to life with Half Magic.
On her art school background…
"I have a background in visual art, and I went to art school at Pratt Institute in Brooklyn, NY, and graduated with a BFA in Photography. I thought photography would be the way to monetise my creativity, but I ultimately I didn't see a path forward working in commercial digital photography because I so missed drawing and painting. A year or so after graduating, my friend's mom had the best solution: be a film and TV makeup artist. I would get to merge my love for painting and drawing with storytelling."
On working in film and TV…
"I thought the script-reading and story-telling aspect of being a makeup artist for film and TV sounded really hands-on and creative. I liked that I would get to use my imagination and artistry while contributing to a larger narrative. I loved that I wouldn't just be using makeup to make people "look better," but to help tell stories to an audience."
On how she trained as a makeup artist…
"To get started, I took a 'crash course' in makeup artistry for film and TV. Instead of enrolling in a year-long program at an official makeup school, I opted to take a private and shorter course with an established makeup artist, Jane Galli. Doing this cost less than enrolling in a makeup school, and also afforded me the chance to see if this was something I really wanted to do. For the record I totally think enrolling in a makeup school is an amazing investment if you're serious about a career as a makeup artist. For me at the time, I didn't know if I was!"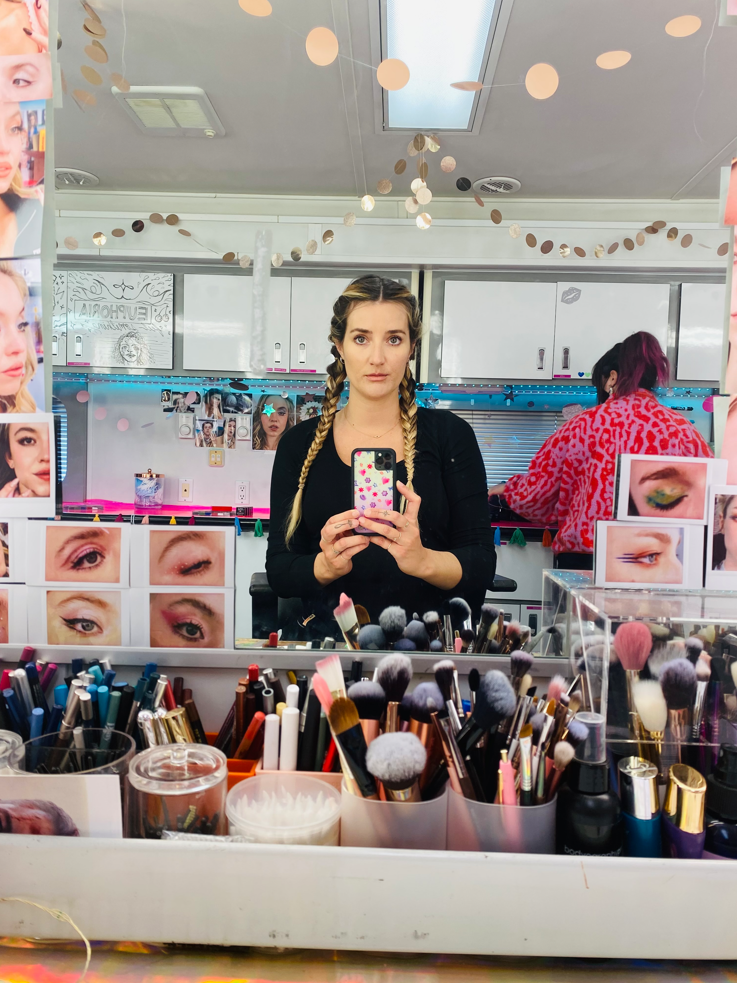 "I started my career by answering makeup ads on Craigslist and doing hundreds of very small jobs. I took every job really seriously, whether I was doing makeup for corporate office headshots, or working on a student film that needed SFX, glam, natural — whatever kind of makeup. I learned a lot of techniques through trial and error on the job, rather than in a makeup school classroom, which is why I don't always approach makeup the same way as more traditionally trained artists. As I completed more and more jobs, I would always update my website portfolio and add stronger pics of my work to it. I would consistently get rid of my "weakest" pics of my work, so that a new prospective employer would be looking at my best and freshest batch of work. The more jobs I did, the more jobs I would get hired on, and I started working on so many short films that they eventually lead to my first ever feature length film!"
On the success of Euphoria makeup…
"It feels surreal. Like I know I worked incredibly hard to get to where I am, but I'm also still in total shock and awe that something I had a creative hand in has taken off in such a way. I feel like I was just minding my own business working as a film and TV makeup artist, when I happened to get this opportunity to work on Euphoria, and the director happened to want really cool makeup for his show, (which by the way was perfect for my background in art), and then I had to deliver that vision because that was literally my job. Sometimes I wonder if luck was involved, but deep down I know I got the job based on my previous work and how I use color in makeup. So in that sense, I'm really proud of my work, but I also know that without the incredible success of the show, Euphoria makeup wouldn't be a thing, so I am infinitely grateful."
On the best part of her job…
"By far the best part of all of this is reading heartfelt messages that people send me, explaining how the Euphoria makeup has changed their lives for the better, made them feel seen and heard, or inspired them to use makeup to explore and express who they are for the first time. To be honest, it's done the same for me!"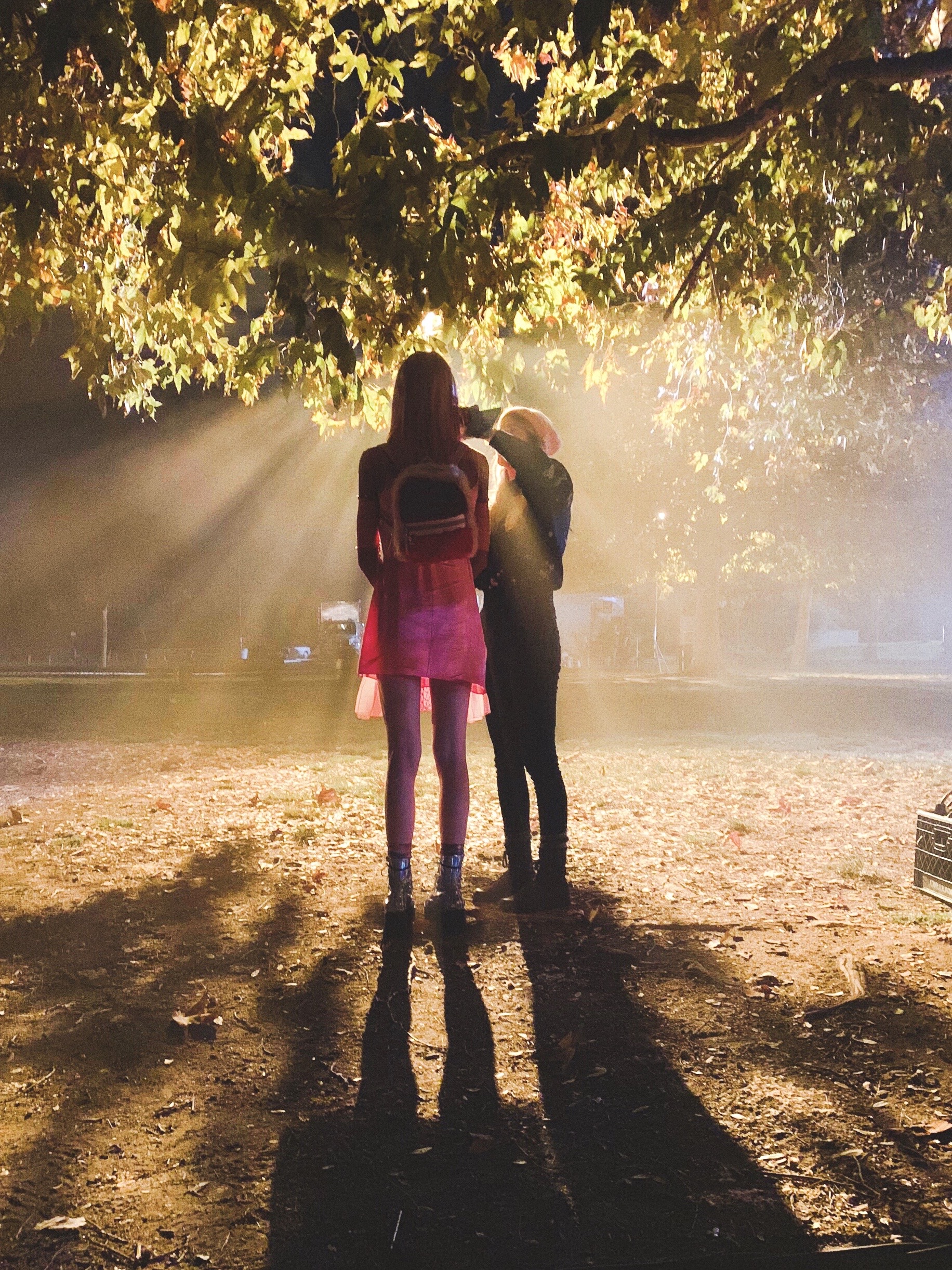 On the legacy of Euphoria makeup…
"Euphoria makeup changed the world by leaving a permanent sentiment that bold, experimental or fashion-inspired makeup can be for anyone at any time, and that rhinestones and glitter are for everyday use. My dream is that we never go back to a time where everyday expression and sparkle isn't the norm."
"I like to imagine underlying emotions or narratives behind a makeup look. I'll then connect certain colours, textures, and shapes to these feelings. I love colour, and my background is in visual art, like painting, drawing and photography. These forms of art are all about telling a story visually, and I look at makeup in the same way. When the backstory isn't there, or I just need to come up with some cool looks on the spot and I don't have time to get all deep and heady about it, I have an intuitive approach and I like to work fast. Often, I hate how a look starts to turn out, and I just keep working on the look until I love it. If I don't love it, it's not done. I'll think about how I can make something super familiar look a little different, and I explore this through colour, texture and placement."
On her advice for aspiring MUAs…
"If you want to get creative with your own makeup but you feel stuck, do a sort of makeup playtime 'warm-up' on yourself. Knowing you're doing it just for fun and you're going to wipe it off, just go ham. In my experience, after I do this, it will spark an idea for a look I want to try. The concept here is that by having a makeup playtime with yourself, you'll sort of unlock a level of creativity you may have never known you had, and consequently your relationship with makeup and even how you view your own face will thrive. Best case scenario: you get inspired, and worst case scenario: you do a hideous look on yourself that you wipe off but you get a good laugh about it. The worst case scenario is actually great."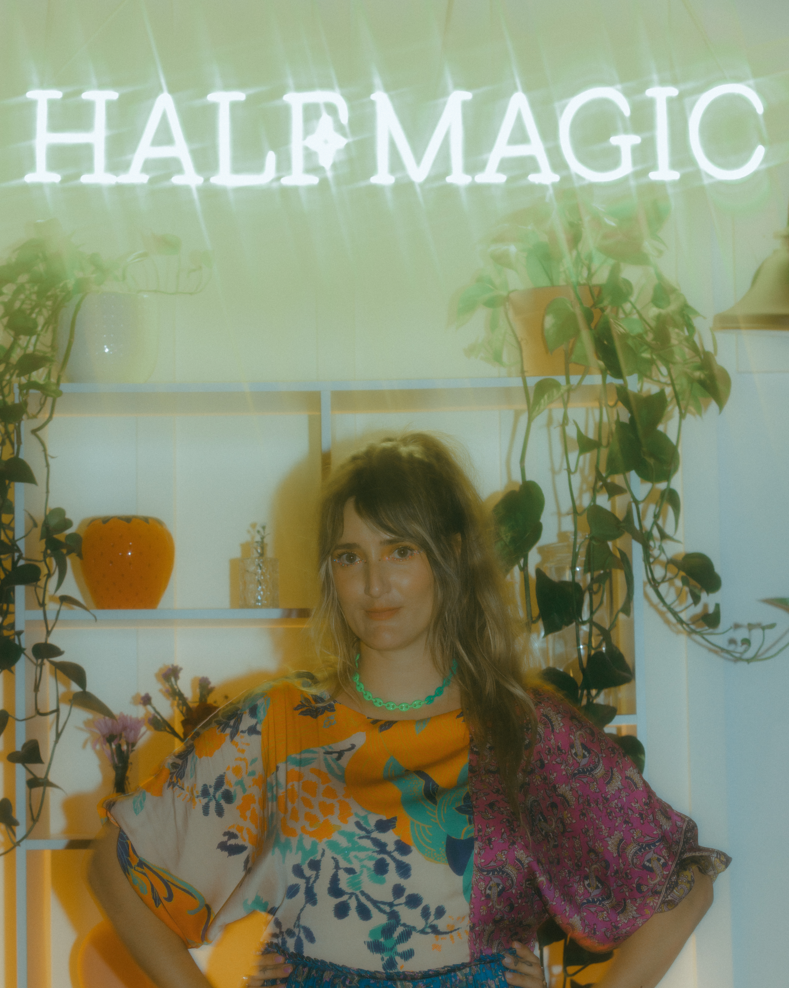 On what makeup means to her…
"It used to mean taking my exterior superficial self, and trying to make her look better (younger, healthier, with as little "flaws" as possible). Now it means looking like my true inner self, expressing my moods, and discovering different versions of myself — aka it's 100% beneficial to my mental health. Makeup is fascinating because on the one hand it can be used to make us blend in and become more a part of society's conventional beauty standards, and then on the other hand it can help us break free of that. It's the 'break free' part that delights me."
On why she decided to create her own brand…
"After Euphoria season one aired back in the summer of 2019, many makeup brands were reaching out to me to do collaborations, like make a Euphoria palette or collection. These opportunities sounded really fun, but I wanted to hold out for an opportunity that felt more genuine and that I could truly have a creative role in, as opposed to just selecting colours for a palette. I also didn't feel truly right about pursuing any of these opportunities without the involvement of my Euphoria family. When the creator/writer/director and the creative producers of Euphoria came to me and asked if a makeup line was something I'd be interested in doing, it was an immediate yes for me. I decided I would trade the instant gratification of doing a Euphoria collaboration with an existing brand, for the experience of building a brand from the ground up that will live on beyond the show."
On the purpose and inspiration behind Half Magic…
"I'm always thinking about the user experience and how to enable anyone to get the glittery, colourful, adorned looks of their dreams, even if they don't really know how to 'do makeup.' My dream is for people who want to explore colourful makeup, glitter and rhinestones to look to Half Magic — even if they've never tried makeup before! Our formulas and tools (like the silicone Wing Magician winged liner guide) are really meant to inspire creativity and be super user-friendly, however our formulas are very high-end and are designed to last and layer at a professional level. Our colour lineups are tightly curated and far from ordinary, but we're all about accessibility. I'm always trying to channel elevated formulas with inspiring colour lineups and extreme ease of use while keeping the products at a friendly price-point. So there's a lot to think about!"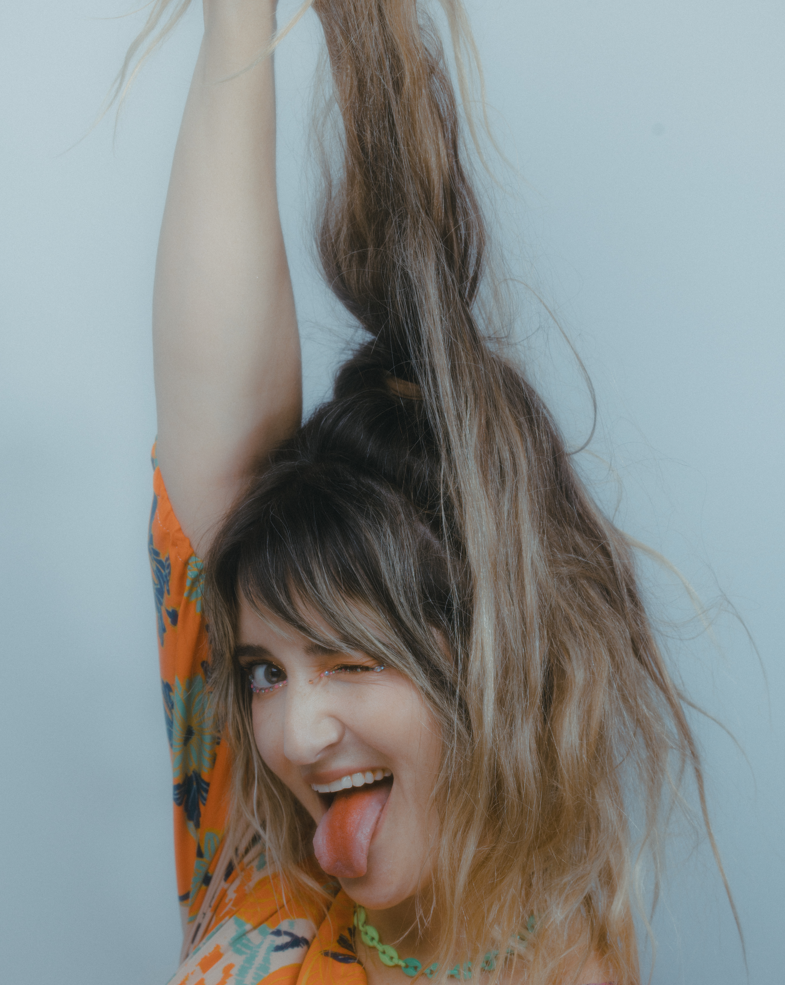 On the product that kicked it all off…
"The first thing I wanted to really focus on with our products was a layering system of eye paints where people can achieve highly saturated color, super reflective shimmer and euphoric sparkling glitter all at once, without those products all mixing together and becoming muddy or sliding all over the face. Chromaddiction Matte Eye Paint & Liner serves as a super saturated base (think of it as a primer) for you to layer shimmer and glitter on top of. Chromaddiction Shimmer Eye Paint & Liner and Glitterpill Glitter Topper and Liner can both be worn alone, but they are specifically formulated to layer on top of Chromaddiction Matte Eye Paint without breaking it down. As a makeup artist, the layering compatibility here was so important to me because it's essential in getting that colorful sparkly look and having it last all day and/or night."
On her favourite Half Magic product…
"My favorite Half Magic product has to be our stick-on rhinestones, studs, and pearls that are made with medical-grade adhesive. If you apply them with our Adornment Tweezers, the whole process takes seconds. It's total instant gratification, and I love that it makes wearing face gems so doable for anyone. I'm particularly obsessed with our rose gold spikes and iridescent rhinestones. I love to create little clusters or arches of adornments, but one of my favorite ways to wear them is placing just a singular gem in the center of my lower lash line."
On the importance of being vegan and cruelty free…
"Being vegan and cruelty free is the responsible thing to do, and I believe this should be the standard for all makeup brands. I'm not vegan, but I do grapple with the fact that I consume animal products, and it's not something I feel great about. Using animal products and testing on animals for makeup just doesn't sit right with me. Animal cruelty in any way, shape or form is unacceptable, but unfortunately so common. Luckily as a founder of Half Magic, I was able to choose for the brand to be vegan, cruelty-free, have all of our eye products ophthalmologist tested, and even produce compostable packaging!"