In episode 38 of the UK Travel Planning Podcast, we have a chat with fellow expat Karen from SmartStepstoAustralia.com all about British foods. This includes everything from customs and language around food to types of places to eat out, how to save money on your food budget and we hopefully inspire you to add some new foods to your list of things to try.
Click the blue button below to listen:
Episode 38 – Show Notes
British Bites: A tasty Introduction to some of Britain's most iconic foods
In this episode, you will learn about:
Sunday roasts and carveries
Typical British hot puddings
Fish and chips with scraps (bad for you but oh-so-tasty!)
What's included in a fried 'Full English' or 'Full Scottish' breakfast
How to order food in a pub
Whether you need to book a table in advance
Favourite take aways in the UK
Bakery snack food like sausage rolls, Scotch eggs, cheese straws, pork pies and Cornish Pasties
Marmite versus Vegemite (Marmite rules!)
London delicacies like jellied eels and pie and mash with liquor
Ordering tea and coffee in the UK
Dealing with food allergies
Meal deals to save you money
Chain restaurants in the UK
Different words for the humble bread roll in various locations around the UK
Places mentioned in this episode include
Upton Fish and Chip Shop in rural Lincolnshire – a unique, coal-fired fish and chip shop that only opens twice a week (be prepared to wait as there is usually a long line, and as you're waiting outside be sure to wrap up warm in winter!)
The Cornish Bakery – found at Gunwharf Quays in Portsmouth and various locations around the UK (and highly recommended by Karen's husband who is an expert pasty-eater!)
⭐️ A PDF transcript of this episode is available to download here
Useful resources
Check out the following articles too: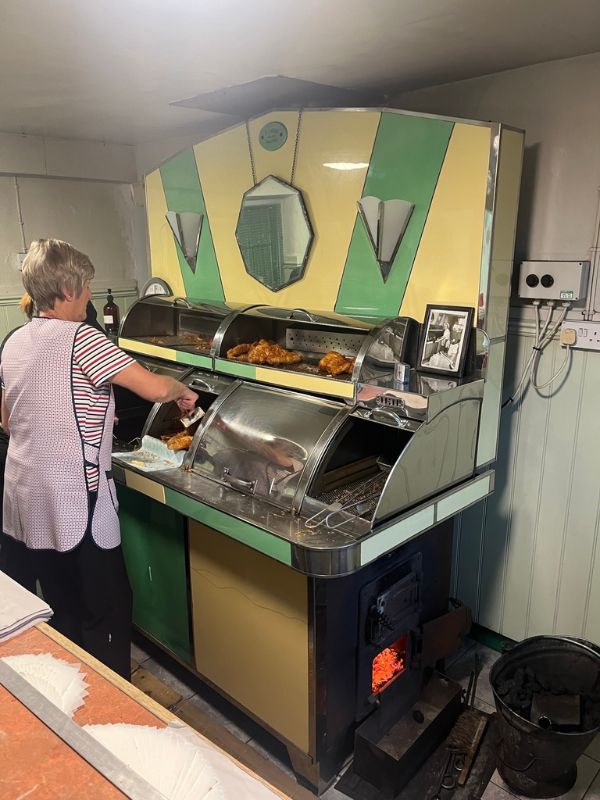 Related podcast episodes
Episode #37 – 6 week family adventure from Australia to the UK with Karen (this episode features even more discussions about food from Karen's recent UK trip!)
Subscribe and review
If you have found our Podcast helpful please leave us a review! We really appreciate your support and it will help make our podcast visible to a greater audience.
Please subscribe so you don't miss any future episodes!