Some posts on this site contain affiliate links. If you book or buy something through these links, I earn a small commission (at no extra cost to you). Take a look at my privacy policy for more information.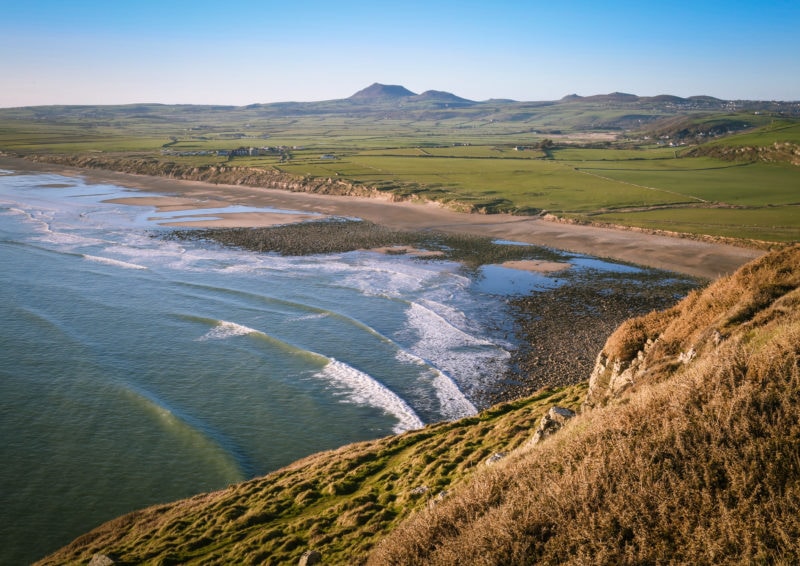 From surfing hotspots to hidden gems, these are the best beaches on the Llyn Peninsula in north Wales – recommended by a local expert!
The Llŷn peninsula is home to some of the best beaches in the UK, rivalling the likes of Cornwall with pristine turquoise waters, sandy bays and water sports.
This stunning area showcases the best of the North Wales coastline, with breathtaking views of the Eryri (Snowdonia) mountains visible in the near distance.
Here you can also access some of the most noteworthy parts of the Wales Coastal Path. This epic walking path stretches along the dramatic cliffs of the peninsula's nearly-100-mile shoreline.
The Llŷn Peninsula is also home to some incredible natural wildlife, with plenty of opportunity for seal and dolphin watching.
You can find a handful of charming seaside towns dotted along the peninsula, such as Abersoch, Pwllheli and Nefyn, to name a few. But it's the stunning beaches in the area that draws in thousands of visitors each year.
The southern coast of the peninsula is often referred to as the "Welsh Riviera". This area is known for calm, blue waters – as well as an exclusive selection of seaside bars, restaurants, and cafes. Elsewhere, you'll find other Llŷn Peninsula beaches that are a paradise for surfers, walkers and explorers.
There's so much to explore in this magnificent corner of the Welsh coast. So whether you're looking to surf the feisty Welsh waves, or simply want to relax with your family on the shorefront, read on to discover the best beaches on the Llŷn peninsula.
Best Beaches on Llyn Peninsula: Map
Best Beaches on the Llyn Peninsula
Quick sidenote for my English readers: Traeth is Welsh for "beach".
1. Traeth Abersoch
Arguably Wales' most popular beach in the summer, this golden beach in the stunning coastal village of Abersoch is a great choice for relaxing and enjoying the sun.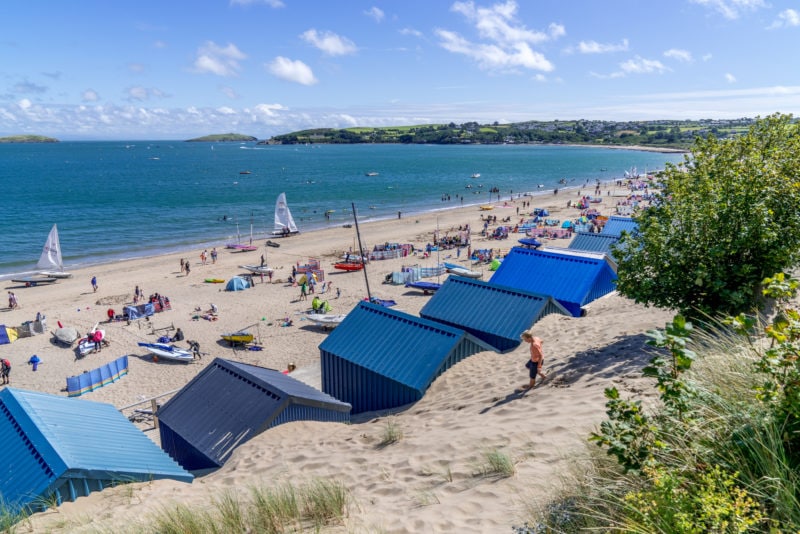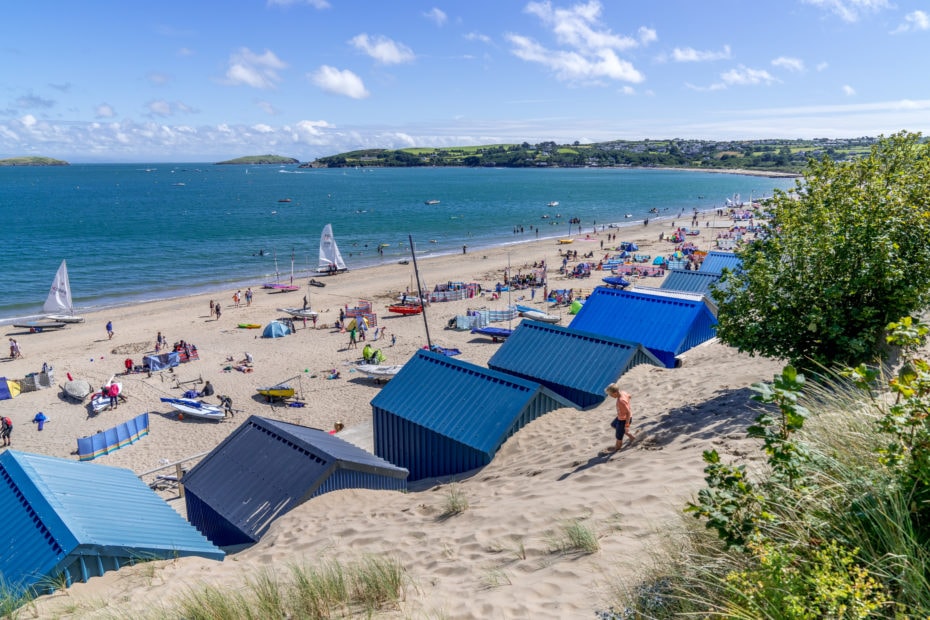 Famous for its watersports activities, visitors can enjoy jet skiing, windsurfing, sailing, kayaking and more. There are plenty of rental booths and tourist hubs along the beachfront.
Abersoch is also known for its town centre. Only a two-minute walk from the beach, you'll find an amazing selection of boutique stores, independent cafes, high-end restaurants, and more.
Only a short drive from Pwllheli, Abersoch is also an excellent hub to explore the rest of Llŷn. Be sure to check out Abersoch Watersports for their guided sup and coasteering tours, and surf lessons in the area too.
2. Traeth Aberdaron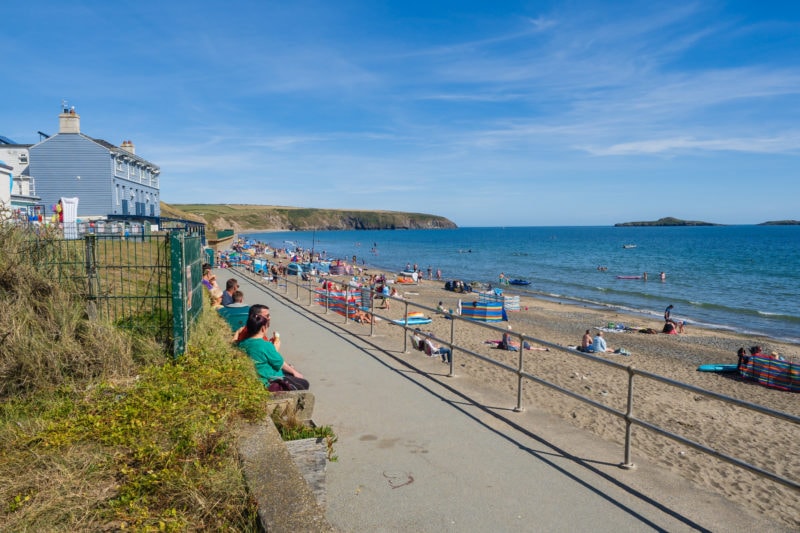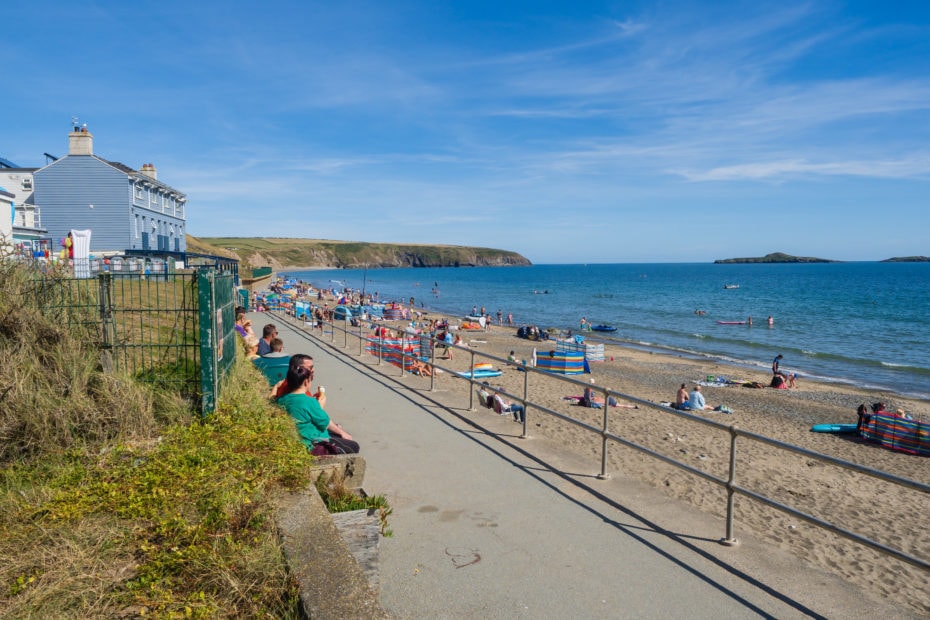 The local's favourite beach, Aberdaron, is a beautiful stretch of golden sand found right at the tip of the Llŷn peninsula.
This mile-long beach is perfect for families, with plenty of space for sunbathing and relaxing. Plus, there are numerous sea caves and rock pools for exploring.
Aberdaron is a charmingly tiny Welsh village peppered with quaint cafes, an ice cream parlour and a sweet shop, with a small stream running through its centre. Here you'll find plenty of parking options, as well as excellent dining options such as Gwesty tŷ Newydd (a great place to watch the sunset). It is a perfect place to end your day in Llŷn, and has some excellent campsites nearby.
Top tip: Aberdaron is the gateway to one of the best sections of the Wales Coast Path. Follow the trail along the cliffside on the righthand side of the beach for spectacular views out to Ynys Enlli (Barsdey Island).
3. Porthdinllaen & Morfa Nefyn Beach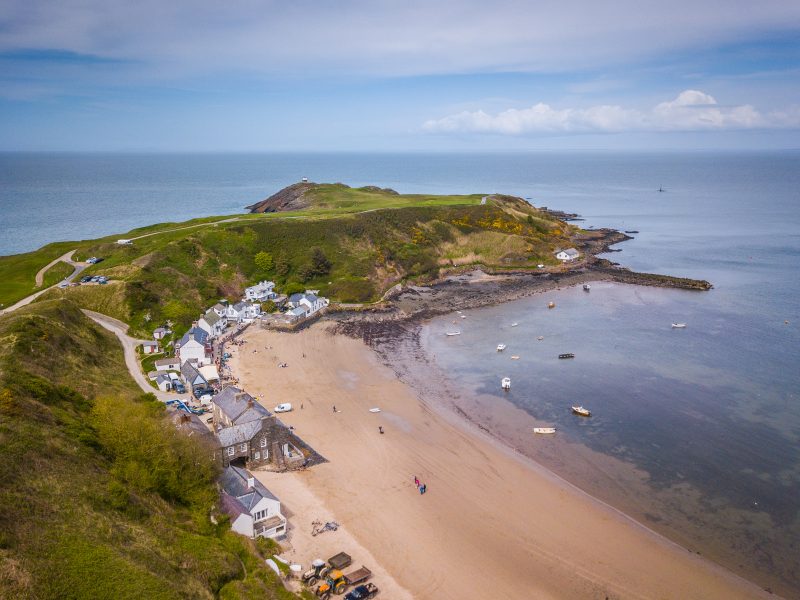 A trip to the Llŷn peninsula is not complete without a visit to what is known as the best pub in Wales: Tŷ Coch Inn on Porthdinllaen beach.
Accessed through the village of Morfa Nefyn, the quaint fishing hamlet of Porthdinllaen is a sandy stretch in a sheltered bay, famous for the renowned red pub at its centre.
Visitors can only access the pub on foot, as the nearest car park is in Morfa Nefyn. But the reward for this 20-minute walk is a great selection of local beer and excellent food, enjoyed right on the seashore.
Both the beaches at Porthdinllaen and Morfa Nefyn are great for families. This sheltered bay has plenty of opportunities for swimming – as well as hiking and watersports.
Those looking to explore can take on the scenic circular walk along the Wales Coast Path from the beach. You can spot some incredible wildlife along this route – and also catch a glimpse of the incredible RNLI lifeboat station situated around the bay.
4. Porth Iago
Porth Iago is a golden cove known to be one of the prettiest beaches in Wales. It's also something of a hidden gem, nestled between grassy headlands on the northern coast of Llŷn.
On a sunny day, its crystal clear turquoise water will transport you to the Mediterranean coast. The soft, fine sand is some of the best on the peninsula.
This beach is one of the quieter beaches in the area, so it's loved by locals and families. It's also popular with kayakers and paddleboarders during the summer months.
Porth Iago is accessible from a nearby car park along a farm track, which operates a pay and display machine. The beach itself is reached by a steep path down the cliff, so may not be suitable for some walkers.
5. Traeth Porthor: Whistling Sands Beach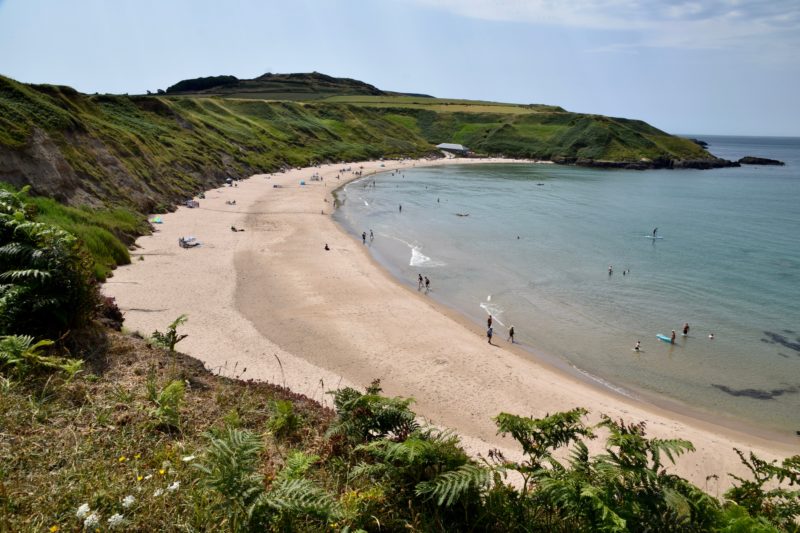 Porth Oer (also known as Traeth Porthor or Whistling Sands) is renowned for the distinct whistling sound that can be heard under your feet when the sand gets blown on a windy day.
This unique sound is due to the rare sand particles on this beach, a quality shared with only one other beach in Europe, on the Isle of Eigg in Scotland.
Only a 30-minute drive from Pwllheli, this is a great beach for families in North Wales. The wide, sandy bay has plenty of accessible swimming spots, as well as a charming cafe nearby for some light refreshments.
This is also a popular spot for surfing in Wales – along with the nearby surfer paradise of Porth Neigwl (Hell's Mouth)*. Surfboard rentals and lessons are available from Abersoch during the peak season.
*The first image at the top of this post is of Hell's Mouth Beach.
More Around the Llyn Peninsula
19 of the Absolute Best Places to Visit in North Wales
10 of the Best Things To Do in Llanberis
12 of the Best Things To Do in Caernarfon
About the Author
This guide to the best beaches on the Llyn Peninsula was written by local travel writer Megan Tomas.
I'm a travel writer and content creator from a small village outside Caernarfon in North Wales. After graduating with a journalism degree from Cardiff University, I worked for 4 years as a digital producer at a Welsh production company. Last year I left my 9-5 to pursue freelancing writing full-time, and am now slow-travelling the world (currently in Bali) as a digital nomad.